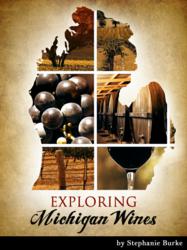 Kalamazoo, MI (PRWEB) August 24, 2012
"Exploring Michigan Wines", an electronic book that familiarizes readers with basic wine information along with the state's wine industry written by Stephanie Burke available for Kindle or on the Kindle app, was released August 20, 2012.
A Michigander her whole life, Burke began developing her love of the state's wines after taking a job at a wine bar. After transitioning from the wine bar to her current position as a copywriter for Blue Fire Media, a web design and development company in Portage, Mich., Burke wanted to share this love with others. She currently exercises her knowledge and appreciation of the state's wines through reading about the topic, drinking Michigan varieties when available and visiting nearby wineries.
"Exploring Michigan Wines" was designed for beginners who are just becoming curious about the topic. This short compilation offers the story behind the start of the Michigan wine industry through current times. The states climate and grape industry is also discussed and information about different varietals is provided. Learn about tasting as well from this short read under the section about the five S's of wine tasting – see, swirl, sniff, sip, savor. Then, the book concludes with a short glossary of wine-related terms along with a list of the state's wineries that is provided in the last couple pages.
Available only electronically, "Exploring Michigan Wines" can be read on a Kindle or using the Kindle app. The Kindle app can be downloaded on smartphones, computers and iPad or Android tablets. This app works with both the Windows and Mac operating systems, on iPod touch and the following smartphones: iPhone, Android, Windows Phone 7 and Blackberry. Electronic books for Kindle can also be read on desktop computers and laptops by using Amazon's free Kindle desktop application.
Blue Fire Media is a team of programmers, copywriters and graphic designers. In addition to web development and design, the company specializes in web marketing and search engine optimization.