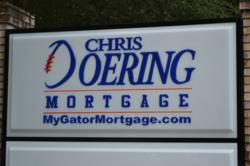 Gainesville, FL (PRWEB) August 24, 2012
Since 2007, Chris Doering Mortgage, located in Gainesville, Florida, has been doing business based on a principle of building "customers for life." In that time, the company has grown to specialize in residential and home mortgages for clients looking to purchase homes and refinance their existing mortgages. After five years, the company is now ready to move into a new location and launch an all-new custom-designed website.
With so many successful years behind it, Chris Doering Mortgage has outgrown its original location. The move to the new location, at 3940 NW 16th Blvd in Gainesville, will make it easier for the company to provide clients with the high level of service for which it is known. The new location will also allow the company to continue growing, which will result in a broader selection of services while maintaining the client-first approach that has become Chris Doering Mortgage's reputation.
In addition to the physical change in location, Chris Doering Mortgage is also preparing to launch a brand new website. The new site, which can be found at the same URL as before, http://www.MyGatorMortgage.com, has been redesigned and built from the ground up to provide clients with a comprehensive selection of services and information. One feature of the new site is the "quick quote" service, where clients can input their mortgage information and receive a fast response from one of their qualified loan originators with a number of options to fit the client's individual needs. The new site will also give clients the opportunity to pre-qualify for loans, so that when the time comes for them to purchase a home, the clients will have already made progress. There are also several tools available on the site to help clients plan for future payments, including a variety of payment calculators. Chris Doering Mortgage has designed the website to be an all-in-one resource where both new and old clients can find all the information they need on current and future home mortgage loans. For more information about Chris Doering Mortgage services, visit their website.
About the company:
Chris Doering Mortgage has been a Gainesville, FL mortgage lender since 2007. At Chris Doering Mortgage, there is a strong and genuine belief in the "customer for life" principle of doing business is what fuels Chris Doering Mortgage's home mortgage experts. Referrals from previous customers and local real estate professionals have always delivered the majority of the company's business. For more information visit their website at http://www.mygatormortgage.com.