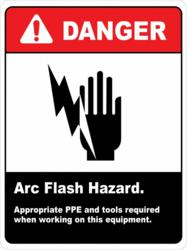 "I feel safe now knowing that our company has embarked on labeling hazardous areas around our manufacturing plant."
Lake Oswego, OR (PRWEB) August 28, 2012
Arc flash labels is a new product Creative Safety Supply is now offering industrial and production facilities to maintain a safe and happier workplace. Arc flash can be a dangerous hazard and can cause billions of damage and even death. Wherever high voltage electrical components are present, there is a potential hazard for arc flash. The NFPA 70e guidelines require proper electrical circuit and arc flash calculations, and posting arc flash labels is considered the best way to minimize risk. Creative Safety Supply is now offering die-cut, preprinted warning label supplies, as well as free training information through the Arc Flash Guide. Some facilities prefer customized labels to meet certain special needs and the industrial labeler known as LabelTac 4 Pro Arc Flash is a complete package to make labels in house.
OSHA and ANSI encourages facilities to use safety signs to maintain a lean and 5s program. Employees are the mainstay and important resource of businesses so it is important to keep the staff protected. Creative Safety Supply reports a 75% savings compared to buying labels from an outside vendor. The Arc Flash Hazard sign is mounted on durable 3mm PVC signboard and can be attached to any wall surface. If customized signs are the way to go, Creative Safety Supply charges no set-up fee or extra charges.
The LabelTac 4 Pro printer package includes everything to get started to make in-house labels compliant with OSHA and NFPA 70e programs. It is the easiest way to print all 5s, pipe marking, facility, lean, and other labels in house. It will print both indoor and outdoor signs and labels that are UV, chemical, weather, water, and wear resistant. And the best feature is they will not fade or smear over time which amounts to money saved for your business. As one employee from Lansing, MI commented, "I feel safe now knowing that our company has embarked on labeling hazardous areas around our manufacturing plant."
To order pre-made or customized signs, or for more information, contact Creative Safety Supply at http://www.creativesafetysupply.com or call toll-free 1-866-777-1360.