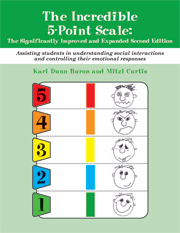 Challenging behavior in learners with ASD has been linked to social differences or deficits. That is, when a person demonstrates challenging social behavior, he or she may lack the skills necessary to negotiate successful relationships.
Overland Park, KS (PRWEB) August 27, 2012
AAPC Publishing announces the release of The Incredible 5-Point Scale: The Significantly Improved and Enhanced Second Edition, Assisting students in understanding social interactions and controlling their emotional responses by Kari Dunn Buron and Mitzi Curtis.
Using the same practical and user-friendly format as the first edition, Buron and Curtis let readers benefit from work done with the now widely successful scales over the past 10 years to include expanding them for use with young children and those with more classic presentations of autism. Also, the revolutionary Anxiety Curve is supported by goals and objectives related to incorporating the scales into a student's IEP. A complimentary CD includes blank scales, small portable scales and worksheets for easy duplication by teachers and parents. Throughout the book, Buron and Curtis emphasize the importance of self-management and self-regulation, two evidence-based practices.
Book Excerpt
A primary goal of the scale is to teach social and emotional information that often eludes persons on the autism spectrum. Initially, the caregiver might need to gather information about the problem and create a scale. This is often the case for very young children with nonverbal individuals. As soon as possible, prompt the person regardless of age or ability, to interact with the scale. This could included checking in regarding anxiety levels, or simply point to a #2 on a voice scale and modeling a whisper voice. This can lead to another goal of the scale, teaching self-management.
Although a story, memo or video is often used to introduce the use of a scale, after the system has been learned, scales can be developed as a way of "debriefing" after an unexpected problem. Once learned, a scale can even be used "in the moment" to clarify information for the person in a functional, nonthreatening and nonverbal way.
After one scale has been used successfully, you can use other scales in the same way. For example, once you have made a worries scale, if the person has difficulty with voice volume, you can show her how to use the scale for voice volume. The scale then becomes a predictable system for teaching and learning difficult concepts.
About the Authors
Kari Dunn Buron, MS, taught students on the autism spectrum for more than 30 years in K-12. Buron developed an autism spectrum disorders certificate program for educators at Hamline University in St. Paul, Minnesota, and has done volunteer work specific to autism in Trinidad, Tobago, Barbados, Tanzania and Ghana. In 2003, Buron received a self-designed Bush Leadership Fellowship that allowed her to spend a year interviewing and working internationally with scientists and researchers in the areas of social cognition, education and autism with a focus on challenging behaviors.
Buron is the co-author of The Incredible 5-Point Scale and author of When My Worries Get Too Big, A 5 Could Make Me Lose Control and A 5 is Against the Law! (2008 ASA Literary Award Winner). Buron is also the co-editor of a textbook for educators entitled Learners on the Autism Spectrum: Preparing Highly Qualified Educators (2009 ASA Literary Award Winner) and the creator of The Social Times, a social skills magazine (2010 Gold Winner, National Parenting Publications Award, and Gold Medal Winner, Moonbeam Children's Book Awards.)
Mitzi Beth Curtis, MsEd, is an autism resource specialist currently working for Intermediate School District 287 in Minnesota and consulting with Minnesota Life College. Curtis has worked in special education, supported employment and residential programs for individuals with disabilities since 1978. Her youngest sister, Maria, sent her on this journey with her birth in 1963.
About AAPC Publishing
Established in 1999, the mission of AAPC Publishing is to be the first source for practical solutions related to autism spectrum and related disorders. AAPC Publishing is an independent publisher, targeting professionals and parents alike. AAPC Publishing strives to offer publications at affordable prices so that important resources are available to anyone with an interest in the autism spectrum.
For media inquiries, please contact marketing(at)aapcpublishing(dot)net.