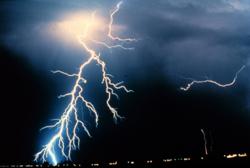 There is absolutely no safe place from lightning--some locations are safer than others.
Salt Lake City, Utah (PRWEB) August 27, 2012
The astonishing statistics tell the story: lightning occurs nearly 50 times per second worldwide. Internationally, an estimated 24,000 fatalities, with 10 times as many injuries, occur annually as a result of lightning. In 2011, the Wilderness Medical Society (WMS) convened an expert panel to review the epidemiology of lightning strikes and make recommendations for the how to prevent and avoid them, along with treatment recommendations for injuries caused by lightning strikes. Panel members were selected based on clinical or research experience. The findings of the panel, led by Dr. Chris Davis of the University of Colorado School of Medicine, resulted in the publication of "WMS Practice Guidelines for the Prevention and Treatment of Lightning Injuries" in the latest issue of the journal Wilderness & Environmental Medicine (Volume 23, Number 3).
The full-text online article, with free public access, is available online now. It provides a summary of current available evidence for the prevention and treatment of lightning injury. The authors believe that improved reporting to a national or international database could help with future epidemiological studies of lightning injuries, prevention and treatment.
Wilderness & Environmental Medicine is published by Elsevier Inc., for the Wilderness Medical Society, Salt Lake City, Utah.
The Wilderness Medical Society (WMS), a 501(c)3 organization, is the world's leading organization devoted to wilderness medical challenges. Wilderness medicine topics include expedition and disaster medicine, dive medicine, search and rescue, altitude illness, cold- and heat-related illness, wilderness trauma, lightning injuries, submersion injuries, envenomation, and wild animal attacks.