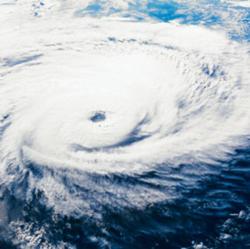 You should never take the threat of a hurricane lightly...
Neptune, NJ (PRWEB) August 24, 2012
The 2012 hurricane season has already seen significant storm activity. So far this year we have already encountered eight named storms including the following: May 19 - Tropical Storm Alberto, May 23 - Tropical Storm Beryl, June 17 - Hurricane Chris, June 23 - Tropical Storm Debby, July 30 - Hurricane Ernesto, August 1 - Tropical Storm Florence, August 6 - Tropical Storm Helene, August 15 - Hurricane Gordon. Even now, more formations are occurring which may fully develop into storms before the season's end.
One of the worst hurricanes in US history occurred in late August 2005 when Hurricane Katrina struck the Gulf Coast. Katrina spanned approximately 200 miles with wind speeds topping out at nearly 150 miles per hour. By the time Hurricane Katrina made landfall it had lost some of its intensity and was downgraded from a Category 5 to a Category 4 Hurricane, but the storm still produced catastrophic levels of torrential rain, severe weather and a 25 foot plus storm surge that devastated New Orleans and much of the Gulf Coast.
Experts describe a hurricane as a severe tropical storm with a circular motion that forms in the warmth of the southernmost waters Atlantic Ocean, the Gulf of Mexico, the Caribbean Sea and the eastern Pacific Ocean. Hurricanes can cause massive amounts of damage with winds in excess of 150 miles per hour, storm surges, tornadoes and flooding due to heavy rainfall.
"You should never take the threat of a hurricane lightly", says Chief Donald Colarusso, who is the president of All Hands Fire Equipment located at http://www.allhandsfire.com/fire-boots and a 25 year veteran of the fire service. "You should follow the instructions of your local emergency management agencies and always be prepared".
Here are some tips that can help individuals and families prepare for dangerous hurricanes and other types of severe weather:

Being prepared: Formulating an emergency plan NOW is of utmost importance. Waiting for an emergency or the threat of dangerous weather to decide a course of action is a serious mistake.
Finding the best local sources of important information: Maintaining access to radio, news, and websites is important to stay informed throughout any severe weather event.
Being aware of one's surroundings and being intimately familiar with property, neighborhood, any flood-prone areas, damns, levees, etc. A community can potentially be devastated by severe weather to the degree where even a longtime resident may not recognize or be able to navigate through it without the usual landmarks.
Having a plan and providing enough time to secure all property is important. This should include securing items such as patio furniture, barbeque grills, garbage cans, decorative lawn ornaments and other items.
Keeping trees trimmed to lower the risk of wind damage is a good idea.
Keeping gutters and downspouts clear and maintained to keep water flowing through the proper channels can help avoid wall and ceiling water damage.
Covering all windows to prevent the glass from shattering is important. The recommended method includes use of storm shutters or 5/8" marine grade plywood.
Knowing the local Coastal Evacuation Route and/or designated escape plan for the local community should be a focus before the storm hits. In the event of a hurried evacuation, avoiding flood-prone roads and bridges is important.
Identifying important documents, heirlooms and personal belongings is a smart precaution. Placing them in a safe, easily accessible area inside a protective container for transportation in the event of an evacuation will help save crucial time.
Ensuring that appropriate insurance coverage has been purchased in the event of future disasters is always something to seriously consider for those in storm prone areas.
Hurricanes are very real threats that have the potential to cause catastrophic damage not only to home and property, but to entire communities. The importance of preparedness cannot be overstated. Remembering that no belongings are important enough to take unnecessary risks for and always following the instructions of emergency management officials will optimize chances of staying safe.