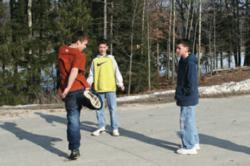 (PRWEB) August 24, 2012
The Cadillac Area Community Foundation has awarded grant funds to Eagle Village to be used specifically for families within the Wexford Missaukee ISD. This grant was awarded from the Pell Fund for Education, an endowment fund of the Cadillac Area Community Foundation.
The intervention services available with these funds will provide opportunities for families and teenagers within the Wexford Missaukee ISD to secure help at Eagle Village. Life-changing services available include:
Family Challenge Weekends where parents and youth attend together, learning new skills and insight into their relationship. Families identify issues, learn to communicate, set limits and goals and develop conflict resolution strategies.
Youth Challenge Weekends confront behavior patterns that create disturbances in the family or community. Teens attend with peers and discover a sense of purpose and self-esteem. They are empowered to take on new behaviors that are positive for self, family and community and learn to be accountable and responsible for their own actions.
Changing Lanes Intervention Program which is designed as a "wake-up call" for troubled teenagers. Changing Lanes provides the opportunity and tools to learn new ways to make healthier choices by examining their old behaviors. They learn new communication skills, anger management and life-skills.
Linda Kimbel from the Community Foundation said, "Providing financial support for these unique programs will hopefully help put several area youth and their families back on the right track so that they can function positively at home, stay in school to reach their potential, and become an asset to their communities." Ms. Kimbel also shared, "I would also like to thank the kids from Eagle Village who have helped out at the free Food Trucks in Cadillac. They work hard and enjoy giving back to our community. We all appreciate them very much!"
Eagle Village provides Intervention Services, Residential Treatment, Foster Care and Adoption services for all counties in Michigan. For more information about programs or Eagle Village call 231-832-2234 or visit http://www.eaglevillage.org.