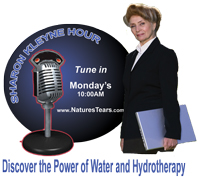 Grants Pass, OR (PRWEB) August 24, 2012
Radio Host Sharon Kleyne has long advocated the nutritional benefits of in-season, locally grown foods cooked at home. The biggest impediment has been that for most families with two wage-earners, there just isn't time to cook at home every night.
According to Melinda Hinson Neely, author of Eat In, Not Out, there is a solution. "It's hard to know," she says, "what and how to cook if you don't understand what you should eat, how much of it to eat, what to buy and when to buy it." Her book teaches the basics of meal planning and preparation with no recipes.
Melinda Hinson Neely was interviewed by Sharon Kleyne on the Sharon Kleyne Hour Power of Water radio talk show on May 21, 2012. Podcasts of the interview may be heard on WorldTalkRadio.com and Sharon Kleyne Hour.com.
Both Neely and Kleyne agree that there are numerous advantages to preparing and eating meals at home. Especially if the food is home grown or purchased at a farmers or produce market rather than a supermarket. Some factors to consider:
•Locally grown, in-season food is more nutritious. The food is fresher, doesn't have to be hauled as far (conserving gasoline), and is better adapted to seasonal biorhythms (your body prefers summer foods in summer and winter foods in winter).
•You can better control things like portion size, salt, butter, sugar, etc.
•You can better assure that the food is prepared under sanitary conditions.
•You can better control where the food was purchased and whether it is organic.
•You can cook more to the tastes and needs of your family (are they overweight, are they marathon runners, what foods do they snack on, etc.).
•You can save a lot of money if you do it correctly.
Neely and Kleyne concur that natural, whole foods are healthier than prepared and processed foods and that the cheapest food by far is farm fresh, locally grown whole produce. Both women strongly advocate the health benefits of drinking plenty of water.
According to Hinson Neely, many people are intimidated by the process of meal planning, shopping and cooking. Her book offers many tips that make the process less stressful, less time consuming and more fun. She suggests worrying less about calories, proteins and fat grams and concentrating on macronutrients and balance (with the proper percentages of vegetables, meats, grains, fruits, etc). She also suggests not worrying too much about "following the recipe" but instead, looking for ways to modify recipes to the tastes and needs of your own family.
Neely notes that children are more likely to eat vegetables they've grown themselves. She agrees with Sharon Kleyne that sugar, salt and fats are addictive and unhealthy, and that they diminish enjoyment of other foods.
Neely's suggestions for good meal planning:

No junk food.
Know how to read labels.
Know what "natural" and "organic" mean.
Make "cents" out of organic foods.
Decide on whole foods versus processed.
Eat cheap and healthy.
The Sharon Kleyne Hour Power of Water is broadcast live on Mondays, 10 a.m., PST/PDT. The syndicated talk show is heard on Voice America/World Talk Radio, Green Talk Network and Apple iTunes. Go to http://www.SharonKleyneHour.com for written summaries and on-demand podcast replays.
Book: Neely, MH, Eat In, Not Out, Booktrope, 2012
Website: MelindaHinsonNeely.com
© 2012 Bio-Logic Aqua Research