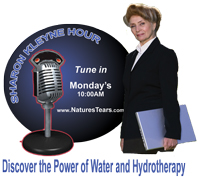 Grants Pass, OR (PRWEB) August 27, 2012
The biggest impact in the United States of the ongoing East African drought is a sharp spike in the price of chocolate (due to poor harvests in Ghana and Ivory Coast). The impact on the people of West Africa is far more profound – mass starvation, thousands of children dying, disease outbreaks, refugees, and a massive need for food and medical aid; and improved water collection, storage and disbursal.
The concurrent drought in East Africa is equally devastating and is exacerbated by widespread criminality, extreme danger to aid workers and lack effective government.
Lauren Fisher of World Vision International discussed the West African drought with Sharon Kleyne on the Sharon Kleyne Hour Power of Water radio talk show on May 21, 2012. Podcasts of the interview may be heard on WorldTalkRadio.com and Sharon Kleyne Hour.com.
According to Fisher, the countries most affected are Niger, Mali, Mauritania, Senegal and Chad. Nigeria, the most populated country in Africa, is also affected and deaths are expected to rise as the dry summer season continues.
Sharon Kleyne noted that water is more critical than food in a drought and famine. One can live far longer on too little food than on too little water. With good access to clean water, you can survive even longer on too little food. Most important, in a water crisis, the water must be brought to people who are ill, malnourished and have little ability to travel very far, and the water must be clean and disease free.
With so little water available, according to Mrs. Kleyne, sanitary measure take on a lower priority than drinking and crop irrigation. The lack of sanitation (flush toilets, hand washing, dish washing, etc) can lead to outbreaks of numerous of potentially fatal dehydration diseases.
Sharon Kleyne inquired about community wells and modern dry-land farming techniques in Africa. She pointed out that dry-land farming techniques can often produce the same crop yield with less than half the water. The key is organic mulching, which enables the soil to retain water for a much longer period. Kleyne also noted that even under non-drought conditions, a large percentage of the African population lacks adequate access to abundant and clean water and that women in isolated villages often spend the majority of their day carrying water.
According to Fisher, World Vision and other international aid organizations are helping to build capture ponds and finance community wells drilled deeply enough to remain productive even during drought. She knows from experience that a village well with a mechanized pump can profoundly change lives on many levels.
The most urgent needs, according to Lauren Fisher, are donated food, water and medical assistance for the most needy – especially the children. She invites listeners to visit the World Vision website to donate to African Disaster Relief Fund, sponsor a child, or purchase from their gift catalogue. Go to WVI.org or WorldVision.org.
The Sharon Kleyne Hour Power of Water is broadcast live on Mondays, 10 a.m., PST/PDT. The syndicated talk show is heard on Voice America/World Talk Radio, Green Talk Network and Apple iTunes. Go to http://www.SharonKleyneHour.com for written summaries and on-demand podcast replays.
© 2012 Bio-Logic Aqua Research