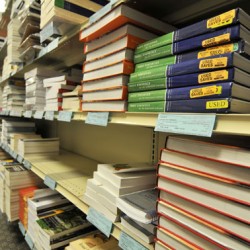 Tiger Bookstore competes on most online pricing, but if you can find your book cheaper online, good for you. Just make sure you know the pros and cons before you buy.
Memphis, TN (PRWEB) August 28, 2012
The cost of college textbooks has risen almost 7% annually in recent years and does not seem to have hit a ceiling.
Tiger Bookstore offers several options to combat high prices on new textbooks through renting, stocking used books, and eBooks. Choosing to rent textbooks allows students to pay less as long as they return them at the end of the rental period. Renting can be less expensive and protects students if a newer edition comes out that devalues the one they own.
EBooks are another increasingly popular, money-saving option. EBooks do expire after an allotted time period and aren't available for all textbooks, but are still worth looking into to reduce spending on textbooks. Beware that once eBooks are downloaded, the sale is final and cannot be returned or reversed.
A recent study by Tiger Bookstore revealed that the shift to buying textbooks online has been driven by perceived savings, but is not without danger. Books that are priced drastically lower than local bookstores could be international or instructor editions of the textbooks. International books are illegal editions of books not intended for US sale or purchase. Instructor editions and advanced copy books may vary from the actual editions of the book and were intended as complimentary copies for the professor. Problems abound with incorrect listings and damaged or unreadable books. Combined with complicated and difficult return policies, buying books online can be a consumer nightmare.
Shipping also makes the books more expensive and if students don't order in advance it can put students behind in classes. Local college bookstores, like Tiger Bookstore, are typically priced competitively, provide better service, and let you deal with a real person if you have any problems. Still, online prices may not be cheaper after it's all said and done. "Tiger Bookstore does compete on most online pricing, but if you can find your book cheaper online, good for you. Just make sure you know the pros and cons before you buy," said Tiger Bookstore textbook manager Marvell Bond.
The main culprit for price increases in recent years though is not local bookstores or online vendors, but publishers. Because of the growing popularity of used textbooks and electronic textbooks, the market for publishers has become more competitive. They've responded by publishing new editions every one to three years in an effort to increase profits.
College students should ask their professor if an older edition will work for their class and if they might know the differences in the new edition. Some online sites like raygunreports.com compile reports showing the differences in old and new editions. A very few states have passed laws requiring publishers to release what differences exist in old and new editions. No such law currently exists in Tennessee. Publishers also raise prices by bundling material like textbooks, workbooks and CDs or DVDs. Students should check with their professors to see if the supplemental material is needed.
Tiger Bookstore hopes to continue educating students on their options when it comes to their college textbooks. They hope to keep open the lines of communication with the University of Memphis professors and students in hopes of lowering the costs of attending college.