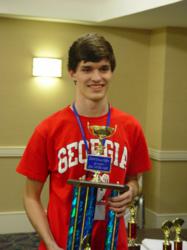 Bridge should be enjoyable. We're doing it for fun. At least that's what I'm all about.
Horn Lake, MS (PRWEB) August 27, 2012
Earning the American Contract Bridge League's (ACBL) highest youth honor, Murphy Green of Alpharetta GA has been named the King of Bridge 2012. One of Atlanta Junior Bridge's brightest stars, the King of Bridge honor is only one of many bridge accomplishments and scholarships Green has been awarded this year.
"It's humbling," Green said of his achievements. "It's all very humbling."
He and fellow Atlanta Junior Bridge players Arjun Dhir, Andrew and Richard Jeng, plus Zach Grossack of Newton MA won the Bridge Base Online National Youth Swiss Teams at the Youth North American Bridge Championships in Philadelphia last month. Additionally, Green was the recipient of the peer-selected John McAllister Sportsmanship Award at the event. Each achievement was coupled with a $1000 scholarship.
"Bridge should be enjoyable," said Green. "We're doing it for fun. At least that's what I'm all about."
Green was also selected to represent the United States as a member of the Jose Diamani Cup USA2 squad at the World Youth Team Championships in Taicang, China.
"Going to China this summer was an awesome experience," Green says. "I've never been overseas before. Seeing a world I've never been exposed to and playing bridge and hanging out with my friends for 10 days was an unforgettable experience."
Atlanta Junior Bridge president, Patty Tucker, described Green as a "supportive partner and teammate. I don't think ACBL could have chosen a better King of Bridge."
Green is a freshman at the University of Georgia studying pre-business.
About King of Bridge
First established in 1973, previous winners of the King/Queen of Bridge, such as Jeff Meckstroth, Bobby Levin, Brad Moss and Joel Wooldridge have all moved on to become full-time players and leaders in the game. The honor is given out annually to a graduating high school senior and ACBL member who plays and promotes bridge. The award is accompanied by a $1000 scholarship provided by the ACBL Educational Foundation.
About the ACBL
Indisputably the most challenging card game ever invented, bridge attracts players of all ages and walks of life - from Microsoft founder Bill Gates to tennis star Martina Navratilova. Founded in 1937, the ACBL is the largest bridge organization in the world, serving 165,000 members, 3,200 bridge clubs and 1,100 sectional and regional tournaments. The ACBL's three North American Championships attract up to 5,000 players representing every state in America and about 20 foreign countries. For more information about the ACBL, visit http://www.acbl.org.