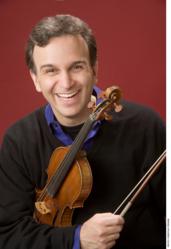 Baltimore, Md. (PRWEB) August 28, 2012
Baltimore Symphony Orchestra (BSO) Music Director Marin Alsop has made a name for herself as one of the leading interpreters of works by American composers. The 2012-2013 subscription season opens with two programs of music that celebrate America, beginning with American Classics with Gil Shaham on Thursday, September 20 at 8 p.m. and Friday, September 21 at 8 p.m. at the Joseph Meyerhoff Symphony Hall and Saturday, September 22 at 8 p.m. at the Music Center at Strathmore. The program opens with George Bogatko's arrangement of The Star-Spangled Banner and features Barber's Violin Concerto to be performed by violinist Gil Shaham, described by The Los Angeles Times as "resplendent." Also on the program is Copland's Third and final Symphony. The piece melds the New World "Americana" style of his ballets with Old World symphonic form, while weaving in his popular Fanfare for the Common Man. The BSO also performs Leonard Bernstein's Symphonic Suite from On the Waterfront. Please see below for complete program details.
In keeping with BSO tradition, the subscription season-opening concerts will begin with a performance of the Star-Spangled Banner. The arrangement to be performed is by George Bogatko, a contemporary composer who previously composed for Marin Alsop's swing band, "Swing Fever." He was commissioned by the BSO as the first of a five-season series of original versions of the national anthem by contemporary composers, leading up to the BSO's centennial season in 2016-2017. Maestra Alsop—ever the champion of living composers and new music—developed the initiative and curates a similar effort for the São Paulo State Symphony Orchestra, where she also serves as music director.
"Music is a direct reflection of a country's culture," says Maestra Alsop. "This season, we explore American culture through the voices of some of our nation's treasured composers. From Chris and Dave Brubeck's jazzy Ansel Adams: America to Copland's triumphant Third Symphony to Bernstein's mournful 'Kaddish' Symphony to the East Coast premiere of Baltimore's own Christopher Rouse in his brand new Third Symphony, we will experience the amazing mosaic that is America."
Written in 1939, Barber's Violin Concerto was originally commissioned by Samuel Fels in 1939 to be played by Iso Briselli, a commission that Barber accepted and immediately left for Switzerland to begin composing the work. Barber was interrupted, however, by the impending threat of war, when all Americans were advised to leave Europe, forcing him to take time off to return to his home state of Pennsylvania. After much editing on the part of Briselli, Barber completed the concerto and saw its debut on February 7th, 1941 with violinist Albert Spalding and the Philadelphia Orchestra. The Barber Violin Concerto has become one of the most frequently performed of all 20th century concertos, and one that Gil Shaham has performed numerous times over the past decade to glowing reviews.
Bernstein's Symphonic Suite from On the Waterfront was composed in 1954 to accompany Elia Kazan's film of the same title, starring cinema superstars Marlon Brando and Eva Marie Saint. The film score went on to earn an Academy Award nomination. Bernstein, however, was troubled by the way the movie producers altered and edited his composition and created this symphonic version to preserve the piece as he originally intended. Based on actual occurrences, the Academy Award-winning film explores the complex relationships between the characters as they struggle with questions of morality, family loyalty, and shattered ambition.
Aaron Copland completed his Symphony No. 3 in 1946; it was premiered by the Boston Symphony Orchestra that same year. As Marin Alsop describes, Copland's Symphony No. 3 "really is a development of his Fanfare for the Common Man… somehow he's able to take that material and dissect it. He turns it upside down… and from that he's able to create an almost 50-minute symphony."
Marin Alsop, conductor
Hailed as one of the world's leading conductors for her artistic vision and commitment to accessibility in classical music, Marin Alsop made history with her appointment as the 12th music director of the Baltimore Symphony Orchestra. With her inaugural concerts in September 2007, she became the first woman to head a major American orchestra. She also holds the title of conductor emeritus at the Bournemouth Symphony in the United Kingdom, where she served as the principal conductor from 2002-2008, and is music director of the Cabrillo Festival of Contemporary Music in California.
In 2005, Ms. Alsop was named a MacArthur Fellow, the first conductor ever to receive this prestigious award. In 2007, she was honored with a European Women of Achievement Award, in 2008 she was inducted as a fellow into the American Academy of Arts and Sciences and in 2009 Musical America named her "Conductor of the Year." In November 2010, she was inducted into the Classical Music Hall of Fame. In February 2011, Marin Alsop was named the music director of the Orquestra Sinfônica do estado de São Paulo (OSESP), or the São Paulo State Symphony Orchestra, effective for the 2012-13 season. Ms. Alsop was named to Guardian's Top 100 Women list in March 2011. In 2011 Marin Alsop was named an Artist in Residence at the Southbank Centre in London, England.
A regular guest conductor with the New York Philharmonic, The Philadelphia Orchestra, London Symphony Orchestra and Los Angeles Philharmonic, Ms. Alsop appears frequently as a guest conductor with the most distinguished orchestras around the world. In addition to her performance activities, she is also an active recording artist with award-winning cycles of Brahms, Barber and Dvorák.
Marin Alsop attended Yale University and received her master's degree from The Juilliard School. In 1989, her conducting career was launched when she won the Koussevitzky Conducting Prize at Tanglewood where she studied with Leonard Bernstein.
Gil Shaham, violinist
Gil Shaham is internationally recognized as one of today's most virtuosic and engaging artists. He is sought after throughout the world for concerto appearances with celebrated orchestras and conductors, as well as for recital and ensemble appearances on the great concert stages and at the most prestigious festivals. Gil has recently appeared in concert with the New York Philharmonic, Boston Symphony Orchestra, Philadelphia Orchestra, New World Symphony, San Francisco Symphony, Saint Louis Symphony, Milwaukee Symphony, New Jersey Symphony and Dallas Symphony orchestras, and outside the USA with the leading orchestras of Rome, Florence, Birmingham, Prague, Paris and London. In addition he will join The Academy of St. Martin in the Fields as leader and soloist on the orchestra's US tour.
In addition to his many orchestral engagements Mr. Shaham regularly tours in recital with pianist Akira Eguchi. He has the good fortune to enjoy musical collaboration with his family as well, including his wife, violinist Adele Anthony, his sister pianist Orli Shaham and his brother-in-law, conductor David Robertson. Among his more than two dozen concerto and solo CDs are a number of best-sellers, appearing on record charts in the US and abroad. These recordings have earned prestigious awards including multiple Grammys, a Grand Prix du Disque, Diapason d'or and Gramophone Editor's Choice.
Mr. Shaham was born in Champaign-Urbana, Illinois, in 1971. He moved with his parents to Israel, where at the age of 7 he began violin studies with Samuel Bernstein of the Rubin Academy of Music and was granted annual scholarships by the America-Israel Cultural Foundation. In 1981, while studying with Haim Taub in Jerusalem, he made debuts with the Jerusalem Symphony and the Israel Philharmonic. That same year he began his studies with Dorothy DeLay and Jens Ellerman at Aspen. In 1982, after taking first prize in Israel's Claremont Competition, he became a scholarship student at Juilliard, where he worked with Ms. DeLay and Hyo Kang. He has also studied at Columbia University. Gil Shaham was awarded the prestigious Avery Fisher Career Grant in 1990. He plays the 1699 "Countess Polignac" Stradivarius, and lives in New York City with his wife, violinist Adele Anthony, and their two children.
George Bogatko, composer
George Bogatko was born into a family of amateur musicians. His father played his way through law school in vaudeville pits and his mother could "swing" her way through pop tunes using only the tune and chord symbols. After a stint in the army, Mr. Bogatko went to Mannes School of Music for composition. While a career in computer technology became his day job, he also managed to continue to find time to compose. Along the way, he met Marin Alsop, who persuaded him to write music for her swing band "String Fever." As Alsop's career took off, she would occasionally ask for symphonic compositions and arrangements to add to her encore list. In the meantime, Mr. Bogatko ventured into composing and arranging music for player pianos and coin operated orchestrations and then later took up traditional large format photography. After an almost 10 year hiatus from composing and Marin Alsop's insistence, George Bogatko resumed composing. This version of The Star-Spangled Banner is the result.
COMPLETE PROGRAM DETAILS
Classical Concert Series: American Classics and Gil Shaham
Thursday, September 20, 2012 8 p.m. – Joseph Meyerhoff Symphony Hall (JMSH)
Friday, September 21, 2012 at 8 p.m. – JMSH
Saturday, September 22, 2012 at 8 p.m. – Music Center at Strathmore
Marin Alsop, conductor
Gil Shaham, violinist
John Stafford Smith, Arr. George Bogatko: The Star-Spangled Banner
Bernstein: On the Waterfront: Symphonic Suite
Barber: Violin Concerto
Copland: Symphony No. 3
Tickets range from $28 to $90 and are available through the BSO Ticket Office, 410.783.8000 or BSOmusic.org.
###