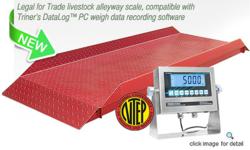 Olive Branch, MS (PRWEB) August 25, 2012
Floor Scales Direct is a division of Triner Scales, one of the oldest and most prestigious manufacturers and distributors of industrial and commercial scales. Triner Scales was founded in 1897 and its early product range included innovative designs in mechanical beam and mechanical fan scales. Staying true to their roots, Triner Scales continues to provide its customers with innovative designs and rugged, durable scales.
In order to better address the needs of its customers, Floor Scales Direct provides a comprehensive range of Triner floor scale packages, which includes basic scales and popular accessories. Floor Scales Direct also manufactures customized floor scales to meet the unique specifications of clients' industrial layouts.
The earliest known scales are known as balance scales. They were relatively simple to make and could measure relative weight. Over the centuries, scale technology advanced to the point where scales can accurately measure an object's weight, up to a millionth of a gram. Advancements in scale technology have assisted a wide array of industries including agriculture, petrochemicals, and international and domestic shipping.
To provide the highest and most advanced scales on the market, Floor Scales Direct has taken the necessary steps to improve their product line. The new industrial weighing scales are completely legal for trade and they can be shipped for free if you live in the United States.
The new design will still be as dependable and rugged as previous models, but set up has been simplified and accuracy has been improved. New industrial weighing scales will feature:

Heavy Duty Stainless Steel Construction
Adjustable Precision Ball and Cup Leveling Feet
And Top Access Stainless Steel Junction Box
In addition to new and improved weighing scales, Floor Scale Direct also released its new line of truck scales. Truck scales, also known as axel scales, are large scales that are usually mounted permanently on a concrete foundation. A truck scale is used to weigh entire vehicles and their contents while both empty and fully loaded.
Truck scales serve a wide array of shipping and industrial purposes. Customers can accurately weigh and record the weights of shipped or imported goods easily, accurately, and comfortably with the newly designed and improved truck scales by Floor Scales Direct. Improved features of the truck scale include:

Forklift Compatible, Watertight Construction
Factory Calibration
NEMA 4x Stainless Steel Junction Boxes
For more information on Floor Scales Direct and its inventory, visit the company's website at http://www.floorscalesdirect.com.