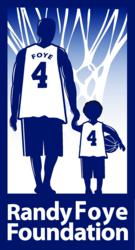 "Giving kids school supplies shows them that you believe in their potential and value their education." - Randy Foye, Utah Jazz
Newark, NJ (PRWEB) August 24, 2012
Sadly across America there are many students who start their first day of school without the necessities to earn the education they deserve. The thought of having their own backpack or notebook on the first day of school is unlikely. Veteran NBA guard Randy Foye of the Utah Jazz is doing something to change that.
For the fourth consecutive year, the Randy Foye Foundation (RFF) is helping kids in Foye's hometown of Newark, NJ get started on the right foot academically. RFF's Back to School Success Program is a collection of school supplies to provide as many students as possible with the basic tools needed to supplement education.
This is RFF's fourth year running this initiative, and in each consecutive year they have surpassed the amount of items collected in the previous year. In 2011, RFF provided backpacks filled with school supplies to over 1,000 Newark students and it is their goal to build on last year's success.
"Giving kids school supplies shows them that you believe in their potential and value their education," Foye said. "This is an area where I struggled as a child, so my goal is to provide as many kids as possible with new backpacks and school supplies to give them a sense of pride."
Because of a wholesale partnership, RFF is asking for monetary donations again this year which will help provide quality backpacks and school supplies at a great cost. Just $6 per student purchases a backpack and lets kids know that someone believes in them. Donors can also drop off new backpacks or school supplies at the Randy Foye Foundation. Requested items include: notebooks, pens, pencils, folders, composition books and filler paper.
The Randy Foye Foundation is a 501c3 nonprofit organization that improves the quality of life for youth in Newark, NJ - Randy's hometown - by creating opportunities for kids to be successful contributors to society and future world leaders. To get involved and donate online, visit randyfoye.org, or contact RFF at 732-576-8181 or info(at)randyfoye(dot)org.