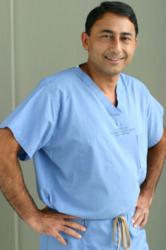 Following these tips will help patients maintain healthy eyes, lower the risk of disease, and prolong quality vision for a lifetime
Los Angeles, CA (PRWEB) August 24, 2012
Renowned eye surgeon and board certified ophthalmologist Dr. Rajesh Khanna has treated patients all over southern California. With experience in Lasik, Prelex, keratoconus, cataracts, and a variety of other procedures, you can bet he has seen it all. Dr. Khanna aims to treat each and every patient's unique vision aliments. Khanna and his team spend time thoroughly examining patients, administering eye tests, and asking a series of questions, before determining the right procedure for each individual. Dr. Khanna has operated on thousands of individuals throughout his 22 years of practice. Remarkably, his state-of-the-art procedures and new age techniques have even given quality vision to legally blind patients. It is the mission statement of Khanna Vision Institute, to give quality vision to all of their patients, whether they may be suffering from vision aliments, or already have 20/20 eye sight. Most recently Dr. Rajesh Khanna has announced the 7 simple steps to achieving, and maintaining healthy eyes. This declaration, he hopes, will give necessary information and helpful tips to Americans everywhere. Dr. Khanna's seven simple steps to healthy eyes, gave rise, after a long career in ophthalmology, and an earnest dedication to his field, as well as his loyal patients. Regardless of age or gender, these steps can help patients maintain healthy eyes and severely lower risk of disease or declining vision.
7 Simple Steps to Healthy eyes:
The first recommended step is, Wear Sunglasses. By wearing sunglasses patients block out the UV radiation. UV radiation due to sunlight exposure is a known culprit for both macular degeneration and pterygium.
Step Number two is known as The 20/20/20 Rule. After every 20 minutes of computer or other close work, look beyond 20 feet, for at least 20 seconds. This will relax the eye muscles and prevent a spasm. This will also allow, blinking, spreading tears, and avoiding dryness. According to NPR, (National Public Radio) More than two-thirds of working Americans use a computer at work, and 84% of them say it is essential for their jobs. By following this simple step Americans can help maintain quality eyesight, avoid dry eye and additional ophthalmology related issues.
Step number three, Wash your Eyes. At the end of the day, take a clean cup and fill it with cool water, then begin to wash your eyes with it. By doing so, this will wash away allergens from the eyes.
Step number four, Do not rub eyes. Rubbing can cause astigmatism, dryness, and scratches to the retina. This may also lead to a release of chemical mediators which will cause continual and more intensive itching. This step is especially stressed after undergoing any sort of eye procedure.
Step number five, a Vitamin A rich diet. This includes; almonds and yellow fruit such as, sweet potatoes, carrots, spinach and liver (pate). Doing so will help promote quality vision through an individual's lifetime.
Step number six, Wear Eye protection. Before participating in yard work, drilling, welding, or other metal work, make sure to wear clear protective glasses. A growing number of on sight job accidents occur due to lack of proper eye ware. Make sure you have adequate protection before partaking in any hazardous, dusty, or intensive activity.
Step number seven, Exercise Regularly. There is nothing quite like getting oxygen to the eye, exercise stimulates all muscles including the eye muscles.
Following these help tips will help patients maintain healthy eyes, lower the risk of disease, and help prolong quality vision for a lifetime.
ABOUT RAJESH KHANNA:
Dr. Rajesh Khanna is an internationally recognized LASIK and refractive vision care specialist. He graduated among the top of his class in medical school and is a member of the UCLA faculty. Utilizing his skills to instruct a new generation of eye surgeons on the safest and most effective techniques and procedures, he pioneered many of today's techniques in LASIK and refractive surgery. Khanna invented a variety of instruments to aid in surgeries and speaks at a myriad of national and international professional venues each year. He participates in refractive surgery conferences and wet labs worldwide. Featured extensively in print and broadcast media, he's received prestigious awards and honors from the World Health Organization. He's a member of the American Medical Association, the prestigious American Academy of Ophthalmology and the American Society of Cataract and Refractive Surgery, and certified by the American Board of Ophthalmology.