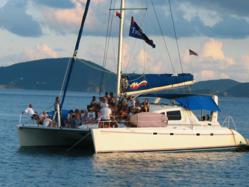 Catch the tradewinds in your sail. Explore. Dream. Discover.
Salt Lake City, UT (PRWEB) August 29, 2012
The Wilderness Medical Society and their partner The Moorings are proud to announce the upcoming 10th Annual MedSail Conference: Medicine for Mariners and Safety at Sea, February 2-9, 2013 in the British Virgin Islands. Accredited by the Wilderness Medical Society, medical professionals will earn Continuing Medical Education Credits. However, you needn't be a medical professional to join MedSail 2013. This event is open to any sailor who wants to feel safer and more knowledgeable on the water.
Participants in this week-long conference live aboard their chartered yacht for the entire event, which includes seminars at different island locations each day, with stops along the way for snorkeling, hiking, shopping or just relaxing. The event speaker are experienced educators and widely recognized experts in their fields. Dr. Michael Jacobs, MedSail Director and Instructor, says their goal it to "provide our attendees with a first-class learning and recreational experience" that will memorable in every aspect.
The schedule, learning objectives, faculty, and registration information are available on the WMS website. To make travel and yacht arrangements, call the Moorings at 888-703-3173. Ask for Barbara Daetwyler, the Moorings coordinator for MedSail 2013, or contact her via email: BDaetwyler(at)mooringsnet(dot)com.
The Wilderness Medical Society(WMS), a 501(c)3 organization, is the world's leading organization devoted to wilderness medical challenges. Wilderness medicine topics include expedition and disaster medicine, dive and marine medicine, search and rescue, altitude illness, cold- and heat-related illness, wilderness trauma, submersion injuries, envenomation, and wild animal attacks. Founded in 1983, the WMS has long-standing commitment to education and research.