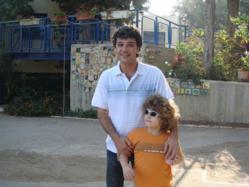 Ahmad changed many lives, set an extraordinary example and left an extraordinary legacy.
Neve Shalom/Wahat al-Salam, Israel (PRWEB) August 24, 2012
A leader in Jewish-Palestinian encounters and conflict resolution in Israel, Ahmad Hijazi was killed in a car accident with his son in Zanzibar. His wife Maram was injured in the same accident. Their 18-year old son Issam had stayed in Israel.
The family were long-term members of Neve Shalom/Wahat al-Salam (NSWAS), having come to live there permanently in 1992. Ahmad was a very central and active person in the community and until the time of his death was directing its School for Peace. He was born February 6, 1967 to a working class family in the village of Tamra in the Western Galilee, where he also attended school.
Ahmad Hijazi was "a man of wonderful man, of great wisdom and intentions," a "wonderful, tolerant and inspiring man who dedicated his life and work to peace;" "Ahmad changed many lives, set an extraordinary example and left an extraordinary legacy," shared people from all over the world on the community Facebook page.
Hijazi's first formal encounter with "the other people" was when at the age of 13 he took part in a school exchange. Children from a nearby town came to visit Tamra and each family took two Jewish children home for the day. The meeting was not facilitated and communication was difficult, but Ahmad's mother made them feel at home. A month later there was supposed to be a reciprocal visit to the Jewish children. However this didn't properly materialize. The Jewish children were embarrassed at not being able to offer the Arab children the same hospitality, and didn't show up to take them to their homes. The flawed encounter caused many hard feelings among the Arab children, and so had an opposite effect from the one that the organizers had intended.
But Hijazi did not give up on the idea of encounter with Jewish young people. When he was in high school, he learned about the possibility to take part in an encounter offered by the School for Peace between his school and a Jewish school. He was eager to attend. He looked forward to meeting and talking - now more confidently - to Jewish teenagers. He expected the encounter to be mainly fun, but was surprised by its serious nature. He was especially shocked that the two sides were treated equally, which was reflected in everything, from the facilitation to the seating arrangement in the room. This helped Hijazi to become aware of the existing inequalities between the two peoples which, though unconsciously absorbed and internalized, were seldom spoken about.
The encounter made such a strong impression on Ahmad that in 1985 he came to live, study and volunteer in Neve Shalom/Wahat al-Salam for a whole year. He was part of a small select group of Arab and Jewish teenagers. During their time in the village, the Jewish and Arab young people took part in a long-term Jewish-Arab group facilitation training organized by the School for Peace.
Ahmad kept strong connections with NSWAS while attending the Hebrew University, where he majored in sociology. After graduation in 1991, he continued for MA studies in the same subject. In the meantime, he married Maram, whom he had first met during a School for Peace encounter in NSWAS. The couple came to live in the village in 1992. They built a house and bore two boys, Issam and Adam.
During all his years in NSWAS, Ahmad Hijazi served as an active and devoted member of the community. He worked not only for the School for Peace, where he became part of the management team, but also, between 1995 – 1997, as secretary of the village (a position equivalent to mayor). Later, from 2003 to 2008, he served as director of communications and development. In a voluntary capacity, he took charge of the village's humanitarian aid program. From 2008, until his death, he directed the School for Peace. In that capacity, he took overall responsibility for important long-term programs funded by the European Union and United States Agency for International Development. In recent years he developed the concept and programs for a future Peace College. At the same time, he had been taking an active role in the village as a member of the municipal committee and in various other functions.
Ahmad lectured at a number of institutions of higher education in Israel and was a board member on several NGOs. He attended conferences and symposiums related to his field in Israel and abroad. He authored several publications, most recently co-editing an anthology of the Palestinian and Jewish poetry, "Two People Write from Right to Left" published by the School for Peace.
Throughout his active career he continued to study, gaining an MA in organizational behavior from the Polytechnic University, New York, in 2007 and various non-formal trainings and courses.
Ahmad's son Adam was known to be a precocious, popular and self-confident child at the village's binational Primary School. Even while in first grade he was able to speak articulately about subjects like democracy and politics, and whenever a visitor wanted to speak to children at the school, Adam was always eager to comply. In a few days, he would have entered his fourth year at the school.
The father and son were buried on August 23 in Neve Shalom/Wahat al-Salam, with hundreds attending. "It is too early for us to absorb the depth of this terrible loss and tragedy," said the community in an earlier Facebook announcement.
Neve Shalom/Wahat al-Salam ("Oasis of Peace" in Hebrew and Arabic) is the only community where Jews and Palestinians choose, from more than 30 years, to live, work and raise their children together in peace and mutual respect. It is currently home to 60 families.