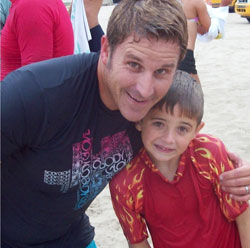 It's a true volunteer organization. I'm proud to be a part of it.
Los Angeles, Calif. (PRWEB) August 24, 2012
For three years, Phil Ambrose raised money to help sarcoma patients. This year he helped one by telling her about the Sarcoma Alliance.
"Six weeks ago, a friend's wife was diagnosed with sarcoma," says Ambrose, who lives in Rolling Hills Estates. "It was quite the life-changing event.
"Things are looking great for her now, but in the first few weeks I put them in contact with SA and they were stoked with the response. They were very happy with the information on second opinions.
Ambrose competes in the Catalina Classic Paddleboard Race for the Ocean of Hope, the Alliance's largest fundraising campaign, board member Suzie Siegel says. Joining him this year will be Joel Pepper, Steve Shikiya, Steve Shlens, Tyler Resh and O2H co-captain Aimee Spector. Fred Sardisco, the other co-captain, and Mike Rogers will help on the beach.
The race is Sunday, and O2H will have food and merchandise under its tents on Manhattan Beach in Los Angeles County until 3-4 p.m. Anyone who wants to help with the set up should come at 8 a.m., Siegel says.
"I went last year, and it was great to talk to other sarcoma survivors and hang out on the beach. It has a real family atmosphere," she says. "Board shaper Joe Bark donates paddleboards each year for our raffle, and they are a work of art."
People who raise $3,000 can have their name or the name of a loved one on a paddleboard, as Siegel says she will.
"This year things are very busy for me with work and family, but O2H has drawn me back in," Ambrose says. "I'll find time to train for the Classic, I'll finish the race, and I'll pray that there are no new names to put on our boards."
A firefighter, paramedic and award-winning specialist in hazardous-material training, he founded HazSim.com to train others. He says he does most of his paddleboard training when his two sons are in school. He has less time in the summer -- when most paddleboard races are held.
"Do the math," he says. "I'm hardly the super athlete. I'm the guy who finishes."
Boats bring the paddlers to Catalina Island in the predawn dark, and the 32 miles back to Manhattan Beach is a "super marathon," he says.
"It's not like someone walks 5 miles to raise money. The crossing has unpredictable currents. And sharks. But boats are the biggest problem. In the back of the pack, there are more boat wakes and, as time goes by, the conditions may worsen. Good news is I don't have to ask for directions.
"I call it the last frontier.
"My first year, I was dead last ... well, the last male." He had heat stroke by the time he came ashore. During the second race, "I vomited for the first three miles. Last year, I got seasick on the way over.
"My mother had leukemia, and now she's doing great. Crossing the channel, even on the worst day, is nothing compared to what people with cancer go through."
Sarcoma represents 15 percent of childhood cancer cases and 1 percent in adults, Siegel says. It's a cancer of connective tissue, including bone, muscle, and nerve and fat tissue. It can occur in anyone at any age in any part of the body.
The Alliance provides information and guidance, emotional and financial help, and various ways for people affected by sarcoma to connect with one another, says Siegel, a 10-year survivor of leiomyosarcoma, a sarcoma of smooth muscles.
"It's a true volunteer organization," Ambrose says. "I'm proud to be a part of it."
The national nonprofit organization was founded just north of San Francisco in Mill Valley in 1999, when the first O2H paddler raced in the Catalina Classic. Ocean of Hope consists of a series of paddleboard and outrigger-canoe races in California and Hawaii. Ambrose said he learned about it and the Alliance after noticing the logos on paddleboards and asking Fred Sardisco of San Pedro, "a great guy" and lifeguard.
Ambrose enjoys "the common bond with the ocean-centric group. Water is my passion. I love getting in the water."
Siegel, who lives in Tampa, says people can donate to the paddlers here: http://www.active.com/donate/oceanofhope2012