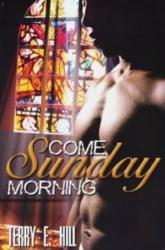 "I think Terry's fans will enjoy the opportunity to contribute to one of his books." Scot Harrison, Publicist
(PRWEB) August 24, 2012
The somewhat eccentric author of the popular trilogy of books which feature a murderous and seductive female mega church pastor is launching a contest in which readers are given the chance to help him write the final book in the series.
Since publisher Urban Renaissance Books released "Come Sunday Morning" and "When Sunday Comes Again" earlier this year Terry E. Hill has developed a legion of devoted fans who are obsessed with his beautiful protagonist, Pastor Samantha Cleaveland. The novels have been acquired by thousands of libraries in the U.S., Europe, Australia and New Zealand and selected as best books of the month and year by book stores and book clubs. Hill is frequently compared to the late author E. Lynn Harris because of his writing style and subject matter.
In Come Sunday Morning Samantha Cleaveland arranges the assassination of her husband, Pastor Hezekiah T. Cleaveland, in the pulpit of their mega church after learning of his homosexual affair. Samantha is then installed as pastor and the head of their international television ministry.
In the sequel, When Sunday Comes Again, Samantha is challenged by people who suspect she played a role in her husband's death and are determined to bring Samantha to justice.
Hill is giving his readers a chance to design the perfect Vanity License Plate for Samantha's 2013 white Bentley Sports Coupe which will play a key role in the conclusion of the trilogy. "The winning plate will capture the true evil essence of Pastor Samantha Cleaveland and immediately convey that she is not a woman that you ever want to cross," Hill said.
The winner of the contest will receive $300, acknowledgment for themselves or their book club in final book of the trilogy, "The Last Sunday", for designing the license plate, signed copies of Hill's three books and an in-person or telephone conversation with Hill at their book club meeting. "Terry can be pretty reclusive so we're very pleased that he has agreed to do this," said publicist and contest organizer, Scot Harrison. "I think his fans will enjoy and appreciate the opportunity to contribute to one of his books." Hill is known for avoiding the media and rarely does public book signings yet his books remain top sellers.
The deadline for Vanity Plate submissions is Sunday Morning, September 30, 2012. The license plate must be under seven letters or digits. There is no maximum number of ideas a contestant can submit. Submissions should be sent directly to vanityplate(at)terryehill(dot)com. More on Terry E. Hill and Pastor Samantha Cleaveland can be found at http://www.terryehill.com.