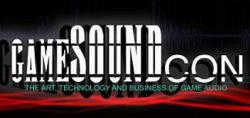 GameSoundCon's combination of masterclasses, panel sessions and hands-on training make it the leading place to learn game music and sound design
SAN FRANCISCO,CA (PRWEB) August 27, 2012
SoundCon, LLC announced today that it is will include hands-on training sessions on FMOD Studio and FMOD Designer as part of GameSoundCon 2012 San Francisco. FMODTV host and FMOD expert Stephan Schutze will be coming from Australia to teach these specialized sessions. The "hands-on" FMOD training sessions at GameSoundCon includes the all new FMOD Studio, the state of the art "DAW for games."
"I'm excited to bring FMOD training to GameSoundCon San Francisco," said conference Executive Director Brian Schmidt. "Stephan's one of the foremost experts in using FMOD and interactive sound. He literally 'wrote the book' on FMOD Designer and has been using FMOD extensively for over ten years."
In addition to the new FMOD training sessions, GameSoundCon features two days of seminars and panels on game audio technology, composing video game music, video game sound design, sound for casual and social games, and breaking into the video game industry. Featuring some of the top names in game audio, including keynote address by Sony Computer Entertainment's Senior Music Manager Clint Bajakian, GameSoundCon continues to be the leading conference and seminar on video game music and sound design.
GameSoundCon 2012 San Francisco will be held on October 24 and 25, 2012 at Pyramind Studios in downtown San Francisco.
To learn more about GameSoundCon and a view complete listing of sessions and speakers, visit http://www.GameSoundCon.com.
To learn more about FMOD, FMOD Studio or FMOD Designer, visit http://www.fmod.org
SoundCon LLC is dedicated to education on the art, technology and business of video game music and video game sound design. With award-winning speakers and panelists from throughout the game and traditional audio industries, GameSoundCon is the only video game music and sound conference specifically for the professional audio community. GameSoundCon creator and speaker Brian Schmidt received the Game Audio Network Guild's 2008 Lifetime Achievement Award, and is a 25 year veteran in the game audio industry, having composed award-winning game music and created sound effects for over 130 interactive games.
Brian Schmidt, Executive Director
GameSoundCon
425-956-3725