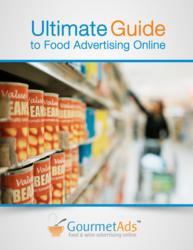 "Consumers make spending decisions with their eyes, especially when it comes to food."
New York, NY (PRWEB) August 24, 2012
Getting consumers to visualize how to use your product through vivid photographs and appealing recipes, and pegging your ads contextually to the most relevant web pages, are two keys to successfully marketing your food items online, according to a new whitepaper from global food advertising network Gourmet Ads. "The Ultimate Guide to Food Advertising Online," which offers these and more than a dozen other tips for manufacturers and marketers, is available for free download at http://www.gourmetads.com.
"When it comes to food advertising online, it truly is as much about art as science. Any Web marketing plan will include a variety of ad types across a wide breadth of sites, but they'll do little good if the product doesn't look irresistible," says Benjamin Christie, managing director of Gourmet Ads. "Consumers make spending decisions with their eyes, especially when it comes to food."
Gourmet Ads places millions of advertisements for food products and other packaged goods across more than 350 websites each month, including its own recipe search engine, RecipeBridge.com. Its experience with what works and what doesn't in the digital arena forms the basis of the 21-page guide. The whitepaper also includes many real-world examples from familiar brands, as well as easy-to-implement tips emphasizing "critical success factors" for maximizing your ad budget.
The Ultimate Guide to Food Advertising Online is one of several recent industry whitepapers from Gourmet Ads designed to assist agencies and in-house marketers make the most out of their online advertising dollar, and which are available at http://www.gourmetads.com/food-advertising-white-paper. Other recent additions include Best Practice Guide to Publishing Recipes Online, and 50 Campaign Advertising Ideas.
Among the other tips marketers will find in The Ultimate Guide to Food Advertising Online:
Don't forget to show the packaging. "Most of the best-performing ads have had two elements: a great photo of a fully prepared meal, and an image of the packaging. Consumers see a great looking meal, which appears at face value as easily prepared by using the product. And next to the meal is the package so they'll recognize the brand when they see it on shelves," says Christie.
Have a clear Call to Action. Make sure your ad inspires the consumer to do something, like find recipes, save a dollar on their next purchase, or request a free sample. "You can have a great looking advertisement, but if you don't have a clear and persuasive call to action, consumers may leave and forget about your value proposition."
Use brand websites and landing pages. Most corporate websites are focused on B2B, and seldom engage the visitor socially. It is essential to have a dedicated consumer-focused site, preferably one for each brand.
Use every ad size available. Apart from being twice as big as any other ad, the performance of the 300x600 ad size from an engagement and click-through rate is similar to that of a high-visibility branding campaign. But you should also have Medium Rectangle (300x250), Leaderboard (728x90) and Wide Skyscraper (160x600) sizes ready to go. The Banner (468x60) and Skyscraper (120x600) are seldom used by most publishers these days and can be scrapped.
Use coupons. Coupons can be highly useful as a marketing tool, as they attract customers to your brand-specific deals and encourage them to buy your products within a given time frame. "Be sure to create landing pages that are built specifically to promote your various coupons. And add social widgets to landing pages to take advantage of social networking and make it easy for visitors to share your coupons with friends," says Christie.
To download the Ultimate Guide to Food Advertising Online and the other whitepapers, go to http://www.gourmetads.com/whitepapers.
About Gourmet Ads
Gourmet Ads (http://www.gourmetads.com) is a global food marketing network focusing on branding campaigns for reaching the grocery buyer online. With operations in the United States, U.K., Canada, Australia and New Zealand, Gourmet Ads consists of over 350 cooking websites where consumers are spending time online researching recipes, including its own recipe search engine RecipeBridge.com. Gourmet Ads develops customized advertising solutions from regular IAB units, to portal type solutions such as background skins, roadblocks and interstitials which go beyond the banner. It has represented such brands as General Mills, Starbucks, Orville Redenbacher's, Campbell's, Nestle, Swiffer and Kraft Foods, as well as retailers Walmart, Kroger, Fresh & Easy and Safeway.