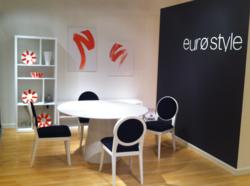 We love this new showroom – at last we can show all our products in a perfect setting, we anticipate a great response from all - Trygve Liljestrand, President
San Francisco, CA (PRWEB) August 24, 2012
The Eurø Style Showroom has moved into a new 20,000 sq. ft. showroom in the IHFC – Commerce Wing – Third Floor – at the top of the escalators. Watch for the announcement of a gala celebration October 13th.
ABOUT EURØ STYLE:
Eurø Style is a wholesale RTA furniture company with factories in Italy, Spain and East Asia. The company's high style products are sold at promotional and medium price points.
Customers can order Eurø Style products from their US warehouse or by factory direct container programs. The company ships out of its Northern California Warehouse the next business day after orders are placed.
Administrative offices are in San Rafael, California, the High Point, North Carolina Show Room is located in the IHFC Building in the Commerce Wing, and the Las Vegas Showroom is located in World Market Center B, 6th Floor.
"I believe strongly that good design should be available to everyone who wants it. Because we have designers and factories all over the world, we can be assured of the right design, and our global sourcing capability makes it possible for us to have the right price."
Trygve Liljestrand, President and Founder, Eurø Style