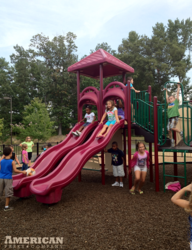 Prosper, TX (PRWEB) August 24, 2012
American Parks Company recently joined forces with Victory Tabernacle Child Development Center to complete a large playground project for their daycare facility in Midlothian, Virginia. Through collaboration with the daycare professionals, American Parks Company designed age-appropriate commercial playground equipment to accommodate children ages 2 through 12 years. The project was completed in July.
The new playground equipment featured at Victory Tabernacle CDC includes a large composite play structure designed to accommodate children ranging in age from 2 through 12. Also featured is a modern 3-bay arched swing set with 6 swings. The project was completed with the utmost safety in mind with recycled rubber nuggets for surfacing under and around the play equipment.
Deanna Loveday, Director of Victory Tabernacle Child Development Center was delighted with the recent addition to their facility. "This is what I have wanted since I became director four years ago. The wish has finally came true and I thank God for this miracle every time I see the children having such a great time!" She also describes the new playground as, "Radical, awesome, beautiful, and safer. They never get tired of playing."
Daycare playground equipment provides children of all ages with countless benefits. Properly configured playgrounds can play a role in learning and development through imaginative play, create great places for social interaction and provide a fun way to get physical exercise and develop major muscle groups.
According to a recent study released by The Shasta Children and Families First Commission (SCFFC), "Playgrounds provide crucial and vital opportunities for children to play. There is substantial research showing the clear link between play and brain development, motor-skills, and social capabilities. All learning—emotional, social, motor and cognitive—is accelerated, facilitated, and fueled by the pleasure of play. Playgrounds that promote different types of play are vital for a child's cognitive, emotional, physical, and social development."
Victory Tabernacle CDC embraces this idea. "Our facility features two large fenced in playgrounds as well as several areas inside in order to promote physical exercise and good health."
American Parks Company President and CEO Martin Chad McNeill stated, "We are honored to have had the opportunity to have our playground equipment chosen to be installed at the child development center at Victory Tabernacle. We love knowing our equipment is contributing to the well being of future generations."
American Parks Company has been building better parks for kids of all ages since 2005. They specialize in designing commercial playgrounds for organizations such as daycare centers, churches, schools, non-profit organizations and municipalities. For more information on daycare playground equipment by American Parks Company, visit their website at http://www.AmericanParksCompany.com.