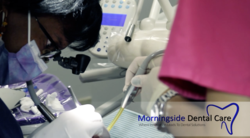 (PRWEB) August 24, 2012
Donna Williams, a dentist located in Morningside Heights, NYC is improving the smiles of her patients with the use of new, fast technology. The Chairside Economical Restorations Esthetic Ceramic has streamlined the process of producing porcelain crowns, and now it can all be done in-house.
Dr. Williams is using the new CEREC procedure to replace old, metal fillings and to restore teeth in a procedure that usually takes a single appointment. The new onlays or crowns are created out of a ceramic block that is the same shade as your natural teeth. Whether you require a complete dental crown or a simple replacement filling, the procedure can traditionally be done in one appointment, and no temporary crowns are required.
Previous techniques required that a physical impression of the tooth be taken and sent to a lab where a crown was created and returned to the dentist within a few weeks. The patient used to need a temporary crown so that they could go about their daily business until the second appointment when the permanent dental crown was cemented.
With CEREC, the entire procedure can be completed in Dr. William's office using the latest technology. Once the tooth has been examined, Dr. Williams takes an optical impression of the prepared tooth and then uses the CEREC 3D software to adjust the model before sending it to a milling machine located within the office. The machine mills a specially selected ceramic block, the color of the patient's tooth, to the required specifications. The completed permanent crown is ready to be bonded. The patient will leave the appointment with a new porcelain dental crown that matches their natural teeth.
Morningside Dental Care is a general practice offering patients personalized dental care for New York, New York. Dr. Donna Williams started her dental career at Howard University as a Dental Hygienist. She graduated from Baltimore College Dental Surgery/University of Maryland, the first dental school in the world. Throughout her dental school education she received awards and recognition, including maintaining a 4.0 GPA during her initial year, and an award for outstanding research in the Dental Clinical Science Research competition. She completed a fellowship in Holistic dentistry and is one of very few general dentists who have achieved this accomplishment. Having lived in Africa for a year, she returns on a regular basis to volunteer, providing dental service and education to villagers. Dr. Williams is part of one percent of dental professionals providing the most recent FDA cleared laser procedure for gum disease and periodontal treatment. To learn more about Morningside Dental Care and their dental services visit their website at http://www.nylasergumsurgery.com and call (347) 694-4342.