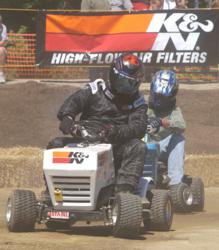 Lawn mower racing is one of the last affordable action sports. Lawn mower racers know the value of good filtration, that is why K&N is nearly everywhere on the track.
- Tony Yorkman, Sports Marketing Manager, K&N Engineering
Riverside, CA (PRWEB) August 28, 2012
K&N Filters Lawn Mower Racer Ken Jones has been tearing up the turf with the United States Lawn Mower Racing Association (USLMRA) since 1995, and as he gets "mowtivated" for the 20th Anniversary STA-BIL Keeps Gas Fresh Finals National Lawn Mower Racing Championships this Labor Day Weekend, he is sitting in 5th Place with 2,150 National Points and looking for a Top 5 Finish at the annual End of Summer Mow Down Show Down.
Jones, of Granville, Illinois races for K&N Filters and Agrassive Mowersports on a mid 1960s TS Rugg mower with an 8hp Tecumseh engine. The lawn legend is having one of his best seasons in the STA-BIL Lawn & Garden Mower Racing Series, grabbing a First Place, two Second Place and one 4th Place Finish in the A Prepared Class, which features 4-stroke engines, 10.5 hp and under, with a factory maximum stock original displacement of 22 cubic inches. Points are awarded for 1st-5th places and for registering, starting and finishing a race.
"I'm having my best season ever and am shooting for a Top 5 Finish in national points," said Jones. "Thanks to K&N Filters, I've got great air flow and optimal performance for better horsepower. A top grade air filter like K&N allows clean air into the motor, and clean air equals more horsepower. I also have a great chassis set-up for better handling. Horsepower and handling are keys to success in lawn mower racing."
The 20th Anniversary STA-BIL Keeps Gas Fresh Finals National Lawn Mower Racing Championships will be held Saturday-Sunday, Sept. 1-2 at the Delaware County Fairgrounds, 236 Pennsylvania Ave., Delaware, OH. Race time is 7:00 PM Saturday, Sept. 1 and 9:00 AM Sunday, Sept. 2. Admission is $5.00, free for kids 12 and under.
Grass kickers from across the U.S. and Ontario, Canada will compete in bladeless competition at speeds up to 50mph. National Champions will be crowned in 11 classes, with winners receiving trophies, bragging rights and garden gnomes.
Two of the world's fastest lawn mowers will be on display including the Dixie Chopper Jet Mower, fitted with a 150 horsepower Chinook military jet engine made famous in the 1993 episode of Home Improvement and the Bonneville Salt Flats mower built by Gold Eagle's Engine Answerman Bobby Cleveland that set the World Land Speed Record of 96.529 in 2010. Festivities will also include the annual Induction Ceremony for the USLMRA National Lawn Mower Racing Hall of Fame & Museum of America.
Event sponsors include FaceLube®, the high performance anti-aging skin care technology for masculine men, Auggiedog, a new poop pick up power tool for picking up dog waste, WheeliesTM Tractor Wheel Covers and Title Sponsor STA-BIL®, America's top selling fuel stabilizer.
About K&N Filters
K&N Engineering, of Riverside, California, is the inventor and leading innovator of reusable cotton gauze filter technology for automotive applications. From humble beginnings as a family run business over 40 years ago, K&N Engineering, now a truly global company with offices in the U.K. and the Netherlands, continues to exist as a family owned business with an enthusiast mindset and a direct connection with motor sports that carries over throughout all levels of management and manufacturing. K&N exists as both the sales and brand leader for performance filters, and maintains a stocking catalogue of over 3,500 part numbers, including an extensive line of both factory replacement drop-in filters, FIPK (Fuel Injection Performance Kit) applications, and its line of innovative Performance Gold oil filters. For more information please visit http://www.knfilters.com.
About the U.S. Lawn Mower Racing Association
Founded on April 1, 1992, The U.S. Lawn Mower Racing Association sanctions and presents organized lawn mower racing across America including the 20-race STA-BIL Lawn and Garden Mower Racing Series, a U.S. Open National Series, Local Traveling Chapters and Home Track Affiliated Clubs, hosting 140 events each year. The USLMRA is the nation's oldest and largest National Lawn Mower Racing Sanctioning Body with more than 800 racers nationwide. Lawn mowers race in several road course classes with all cutting blades removed at speeds from 10-60 mph. Racers compete for trophies, points and bragging rights, never for purse money. The annual STA-BIL Keeps Gas Fresh Finals national championship is televised on Fox Sports Net "Race Freaks" USLMRA sponsors include STA-BIL Fuel Stabilizer, HEET GasLine Antifreeze, Diesel Power!,104+ Octane Boost, No Leak, Alumaseal, Start Your Engines!, K&N Filters and Gnomefrenzy.com. For mow info please visit http://www.letsmow.com.