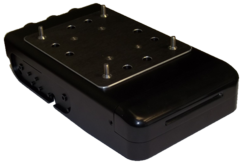 it's compatible with every type of phone including the Apple iPhone
Charlotte, NC (PRWEB) August 24, 2012
Distracted driving has claimed thousands of lives every year. According to the Department of Transportation in 2010 at least 3,092 people were killed and another 416,000 were injured as a direct result of a driver using a hand-held device either talking or texting while driving. Recently, the National Highway Traffic Safety Administration (NHTSA) announced $17.5 million worth of grant money has been allocated for 2013 as an incentive for states to adopt stricter cell phone and texting while driving laws. Even with this incentive, and more states adopting some sort of ban on cell phone use while driving, the challenge facing this type of legislation is enforcement.
It is extremely difficult for law enforcement to distinguish between an acceptable practice of using the GPS on a phone, and texting or using the phone in some other unsafe and illegal manner. Ron Pothul, founder of Dock-N-Lock states, "Distracted Driving has become the new DUI. Cell phones are ingrained in everything we do. Until there are safer ways of using these technologies, people will continue to practice the same dangerous behavior that is causing an epidemic of fatalities on our roads today."
Dock-N-Lock's Surge'ON™ system offers businesses with fleets and families with teenage drivers a safer way to drive. How it works is simple. According to Dock-N-Lock™, the driver must place their phone inside the device, which locks the phone safely out of the hands of the driver. Once locked, the system searches for the driver's phone by identifying a non-removable tag that gets placed on the phone. Once the driver is authorized to drive by having his/her phone secure in the system, the vehicle is able to start. Once the vehicle is running the driver will not have access to their hand-held device until they turn the vehicle off. This prevents texting while driving and hands-on calling completely.
Companies are vulnerable to the growing dangers of distracted driving. Ending up on the wrong side of a lawsuit or being labeled socially irresponsible can have significant consequences to a company's bottom line. Several lawsuits have resulted in settlements that reach well into millions. A direct result of these types of incidents has been increased awareness by fleet safety operators of the need to take a proactive approach to prevent distracted driving accidents.
"What we've been able to do is come up with a pretty simple solution that is effective and easy to use by any driver." ,says Jeff Pothul of Dock-N-Lock. He adds, "The solution doesn't require an application to be downloaded to work, and it is compatible with every type of phone including the Apple iPhone."
According to Dock-N-Lock™, the Surge'ON™ safe driving system is now available for business fleets to purchase, and pilot programs are being launched across the country this fall. Dock-N-Lock™ will be in Las Vegas at the American Trucking Associations Management Conference and Exhibition October 7-10.
About Dock-N-Lock LLC
Founded in 2011, Dock-N-Lock LLC promotes awareness of distracted driving due to cell phone use and provides comprehensive solutions that prevent accidents and ultimately save lives. The technology incorporated in the Surge'ON safe driving system for fleets and families takes cell phones out of the driver's hands and gets their hands back on the wheel. For more information please visit http://www.dock-n-lock.com or call direct at 800-213-7182.