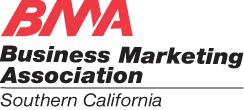 Equipping and Empowering Today's Business Marketing Leaders
Los Angeles, CA (PRWEB) August 24, 2012
The Business Marketing Association, Southern California Chapter (SoCal BMA) held its monthly event Tuesday, August 21, at the Hyatt Regency Mission Bay Spa & Marina in San Diego. SoCal BMA corporate member Jacques Pavlenyi, Market Segment Manager, Messaging and Collaboration, IBM Corporation, keynoted the executive dinner event, sharing his insights on the effective use of social media in the business-to-business (b2b) arena.
Pavlenyi explains, "Social Business – the application of social media technologies to drive business results – is just as important for B2B as it is for B2C. It is uniquely positioned to be able to address top CEO priorities, including better customer and partner engagement, and improved sales and marketing … social media marketing for business-to-business doesn't have to be such a daunting endeavor."
In an intimate round-table setting, SoCal BMA members and guests were able to draw on Pavlenyi's deep expertise on the subject. Starting with the philosophy of "listening to the customer" before doing anything else, Pavlenyi outlined case studies of what has proven fruitful for him at IBM when engaging with the different business segments under his responsibility. Ideas such as listening to the competitive chatter to see what's being said about similar products, and determining if your company is part of that conversation was just one of the ideas that he presented.
Attendees gave Pavlenyi's presentation and interactive discussion glowing reviews. At the close of the event, SoCal BMA President, Luz Marina, commented: "I really believe that each attendee took away a number of immediate, actionable ideas to implement into their businesses and generate more successful results with their B2B social media programs. My biggest take away … 51% b2b professionals are not doing any tracking. In order to become a part of specific customer conversation, develop the hard work first – listen first – then align via your metrics. What a great 'aha' moment."
About Business Marketing Association Southern California
SoCal BMA focuses on topics and issues relevant to b2b marketers and business leaders – including the chapter's signature online event series, Webinar Wednesdays, where marketers from any location can participate. Celebrating its 90th anniversary, the Business Marketing Association is the world's premier community devoted exclusively to advancing the business-to-business marketing profession, connecting members with the kind of knowledge, people, and programs that make achieving their b-to-b company objectives more efficient and effective.
The SoCal BMA serves the southland throughout the greater Los Angeles area, Orange County, San Diego and the Inland Empire. Learn more about SoCal BMA and its events by visiting http://www.SoCalBMA.org and follow on http://www.Twitter.com/SoCalBMA.