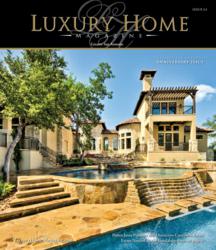 Our team, our vision, our values and our focus are the driving forces as we continue opening magazines throughout North America.
(PRWEB) August 25, 2012
Sunshine Publications, Inc., publishers of Luxury Home Magazine congratulate Luxury Home Magazine of Greater San Antonio on their 1 year anniversary.
Luxury Home Magazine is the leader in the market specific presentation of luxury homes and the luxury lifestyle and has been delivering powerful results since 2001. Often referred to as a "Coffee Table Magazine", LHM features exceptional homes currently offered for purchase in select markets across North America. Luxury Home Magazine's bi-monthly, targeted delivery to the wealthiest and most affluent buyers and sellers of luxury real estate provides a solid source of qualified leads for its advertisers. Luxury Home Magazine operates one of the most viewed websites offering luxury homes for sale and has a powerful connection to multiple social media outlets.
Just over 12 months ago Luxury Home Magazine of Greater San Antonio made their mark with the release of their premier issue. Since that time, Publishers Tomas and Christina Martinez have set a new standard for providing extraordinary customer service and exceeding client expectations. The landscape of the San Antonio luxury real estate market will forever be changed as Luxury Home Magazine has become the source for all things related to luxury real estate and luxury living in this South Texas community.
One of the signature services that are provided for homes which appear on the cover of Luxury Home Magazine of Greater San Antonio is a hosted "Evening in Luxury" event. Top real estate and luxury brand professionals meet and mingle at the cover home; these parties serve as a wonderful opportunity to demonstrate the true luxury these cover homes have to offer. On August 28th, the next "Evening in Luxury" will take place in a Stadler custom home listed by Debra Janes of Keller Williams Luxury International. This 8,000 square foot dream has 5 bedrooms, media room, office, game room and is listed for $3.3 million. The back pool beckons with multiple waterfalls and pools to delight all who lay eyes on it's beauty. Located in the prestigious Cordillera Ranch, this estate sits on the Guadalupe River, one of the few lots with actual views of the river.
The successes of markets like San Antonio are just one of the reasons that Luxury Home Magazine continues to grow and expand as enterprising individuals looks for new career opportunities in the publishing industry. Luxury Home magazine has just completed the final steps that will usher forth 2 new markets which are set to open in the first quarter of 2013. One of these markets is located in charming city along the eastern seaboard; the other market is located southwest region of the country. "Both of these markets have been locations that we have been eyeing for years now. We just needed the right people with the right passion to be in place. I have no doubt that both of these markets will be great additions to the Luxury Home Magazine family and strengthen the services we offer our clients locally, nationally and internationally" said Emile Bonfiglio - Senior Vice President of Luxury Home Magazine. He continues, "The launch of our new LHM Publishing Opportunities website has given us a wonderful venue to showcase the opportunities that are available for operating a Luxury Home Magazine in new markets."
"As we continue providing a superior market specific product In Print, Direct Mailed and Online, we are driven to give our Publishers more marketing and real time training, Our goal is ultimately to be a resource not to just our Publishers/Distributors, but to our clients and their clients as well. Our team, our vision, our values and our focus are the driving forces as we continue opening magazines throughout North America." Brad Taylor CEO - Sunshine Publications, Inc.
Luxury Home Magazine is a division of LHM Media Group, a brand publication of Sunshine Publications, Inc. online magazine content and more corporate information can be found at http://www.luxuryhomemagazine.com. Follow Luxury Home Magazine on their blog, facebook and twitter (@luxuryhomemag) for constant updates on the latest in luxury real estate.
About Luxury Home Magazine:
Luxury Home Magazine is a division of Sunshine Publication, Inc. Online magazine content featuring stunning luxury and the finest luxury real estate and more corporate information can be found at LuxuryHomeMagazine.com
###