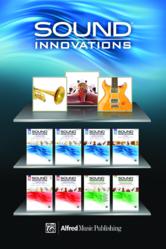 Los Angeles, CA (PRWEB) August 23, 2012
Alfred Music Publishing, the world leader in educational print music publishing since 1922, continues its mission to help the world learn, teach, and play music with customizable music textbooks. Combining the input and experience from thousands of teachers with Alfred's team of industry-leading authors has resulted in Sound Innovations, the first ever on-demand customizable multimedia curriculum for school bands and orchestras. Sound Innovations is a revolutionary instructional series that combines time-tested educational concepts, input from thousands of teachers, advances in modern technology, and solid pedagogy written to comply with state and national music education standards.
In the days of school budget cuts and alternative learning environments, music classrooms now come in all shapes and sizes, with a variety of different needs. With this reality come many challenges that music educators must overcome year after year, including the selection of the best textbooks for their students, commonly referred to as "method" books. Traditionally, music teachers have only had a "one size fits all" approach that did not always address the students' unique interests or varied learning abilities, nor the teacher's own experiences.
"Sound Innovations is the world's first on-demand customizable music method book," states Andrew Surmani, SVP and Managing Director of School & Church Publishing. "Educators can use alfred.com/soundinnovations to start building the method that best suits their class. We then print the books on a dedicated press, and deliver them to the teacher's school."
Customizable features include:

The choice of including note names in the note heads and the starting key (which helps in pacing instruction to be quicker or slower).
Adding enrichment pages (which helps in assessment and cross-curricular learning).
Swapping in popular songs that students can use to practice important concepts (which aids in student recruitment and retention).
Customizing the book cover and intro letter (which helps teachers keep track of their materials as well as instilling a sense of school pride).
The books are then bound with an instructional DVD and customized MP3 disc that contains recordings of all the musical lines in the book for practice. The entire process from building the method to teachers and students holding it in their hands takes about 10 days.
Alfred Music Publishing continues to provide music educators with the ability to build music learning environments that are innovative, highly effective, and fun. Music programs with this sort of stimulus not only result in invigorated music classrooms, but also release a powerful force in the social and educational development of students. According to a recent Gallup poll performed by the National Association of Music Merchants (NAMM), an overwhelming majority of the sampling of Americans believe music education is essential to development.

96% believe that playing in a school band is a good way for young people to develop teamwork skills.
94% believe that music is part of a well-rounded education.
92% believe that schools should offer music as part of the regular curriculum.
88% believe that participating in school music often yields better grades.
88% believe music education should be mandated by states.
88% believe music helps teach children discipline.
Employing the right curriculum in music classrooms is critical to the success of their programs. Now with Sound Innovations, the perfect custom-tailored music textbook is just a few clicks away.
We can arrange for you to interview Alfred's Ron Manus, CEO, Bryan Bradley, COO, or Andrew Surmani, Senior Vice President and Managing Director, School & Church Publishing, and the world-renowned author team of Sound Innovations, Robert Sheldon, Bob Philips, Peter Boonshaft, and Dave Black. We also invite you to consider publishing a profile piece on Alfred Music Publishing during its 90th anniversary.
ABOUT ALFRED MUSIC PUBLISHING
Alfred Music Publishing is the world's largest educational music publisher. Alfred produces educational, reference, pop, and performance materials for teachers, students, professionals, and hobbyists spanning every musical instrument, style, and difficulty level. Alfred's home office is located in Los Angeles, with domestic offices in Miami and New York as well as offices around the world including Australia, Germany, Singapore, and the United Kingdom.
Since 1922, Alfred Music Publishing has been dedicated to helping people learn, teach, and play music. Alfred currently has over 90,000 active titles. Alfred represents a wide range of well-known publications—from methods like Alfred's Basic Guitar, Alfred's Basic Piano Library, Premier Piano Course, Sound Innovations, and Suzuki, to artists like Led Zeppelin, The Rolling Stones, Bruce Springsteen, Sheryl Crow, Eagles, Cole Porter, and George and Ira Gershwin, to brands like Star Wars, Harry Potter, Lord of the Rings, Rolling Stone Magazine, and Billboard.
In addition to its own titles, Alfred distributes products from over 50 companies, including Belwin, Daisy Rock Girl Guitars, Dover Publications, DW Drums, Faber Music, Highland/Etling, Kalmus, Penguin, TASCAM, Ultimate Support, and WEA.