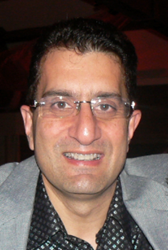 This is an exciting development for UCLan – as well as for dental education in the North West region.
Manchester (PRWEB) August 24, 2012
The Managing Director of Langley Dental Group, Middleton, Manchester, Tariq Drabu has been appointed to a senior specialist teaching position at the brand new University of Central Lancashire (UCLan) Dental Clinic in Preston.
The University of Central Lancashire has spent £1.3m creating a state-of-the art dental clinic at its Preston city campus, which will provide much-needed services for local people as well as staff and students.
The clinic will have four general dental surgeries; an oral surgery suite (two surgeries and recovery room) and a 10-chair training suite and will be fully equipped to meet both treatment and teaching requirements. UCLan is believed to be one of the few universities in the country, other than specialist dedicated medical centres, to have such facilities on site.
Tariq Drabu will be leading the specialist oral surgery services at the UCLan Dental Clinic. He is registered with the General Dental Council as a specialist in Oral Surgery and will have responsibility for providing not only treatment to patients but also teaching dentists. Between 2001 and 2009 he was a senior teaching fellow in oral and maxillofacial surgery at Manchester Dental Hospital where he was responsible for the teaching, lecturing and supervision of dentists on the University of Manchester's Masters program in oral and maxillofacial surgery.
Currently Tariq Drabu is the clinical Lead for the NHS Heywood, Middleton and Rochdale dental CATS services which since 2010 have been providing specialist oral services out of primary dental practices at Langley Dental Practice, Middleton, Manchester and The Phoenix Centre Heywood. He is the owner and managing director at Langley Dental Practice in Middleton, Manchester which provides NHS dentistry for over 12,000 residents of Heywood, Middleton and Rochdale. As a teacher and educator Tariq Drabu has over the past decade taught and mentored over 500 dentists in oral surgery at postgraduate level and has lectured and taught on the subject at regional and national meetings.
Announcing the launch of the clinic, St John Crean, dean of the school of postgraduate medical and dental education said: "This is an exciting development for UCLan – as well as for dental education in the North West region."
Having been through a highly competitive interview and selection process earlier in the year, Tariq Drabu is due to take up his part time post at the UCLan Dental Clinic in September when the clinic officially opens its doors.
Speaking about his appointment Tariq Drabu said "I am looking forward to the new and exciting challenges that lie ahead. I am thrilled, honoured and privileged to have been appointed to what I consider to be a ground-breaking new dental venture at one of the most exciting and progressive universities in the UK."