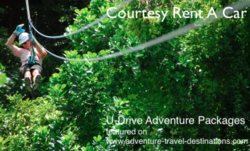 for the more adventurous we offer free passes to attractions like the aerial zip line, where you can enjoy a completely different perspective flying high between the mahogany trees
Bridgetown, Barbados (PRWEB) August 30, 2012
It is not every day that a top car rental company helps travelers with their adventure travel tours and holiday activities. But that's exactly what Courtesy Rent-A-Car is offering with their unique concept of U-Drive Adventure Holidays. See more at http://adventure-travel-destinations.com/toursthemes/u-drive-adventure-travel-tours/
Few car hire companies get involved in negotiating special rates and packages for the adventure traveler. But with Courtesy's "U-Drive Adventures" guests get free passes to some of the most popular activities on the island. Ian Proverbs, Manager of Courtesy Rent-A-Car, says "for the more adventurous we offer free passes to attractions like the aerial zip line, where our clients can enjoy a completely different perspective flying between the mahogany trees".
Other special offers include a free pass to the most popular attractions like the Concorde Experience where guest enjoy a simulated flight and learn about supersonic travel. The flights from London, UK to Barbados was one of the most popular and successful runs and one of the Concorde planes was retired in Barbados to become this popular attraction.
Courtesy Rent-A-Car Barbados, has been around for over 35 years and has built a business based on offering good service and reliable vehicles at competitive rates. They have a great selection of cars maintained in tip top condition ranging from budget to luxury sedans and 4x4 jeeps for the adventurous.
Proverbs says the company is always looking out for what special services they can offer people on vacation to make their experience all that more enjoyable. The type of car is important, its condition and the service are vital, and so are the extra things that can be added to the package to increase its value.
CourtesyRentACar is the latest company to join AXSES' SocialIndexEngine (SIE) Marketing. The campaign, which includes listing on prime sites like Adventure-Travel-Destinations.com, is geared toward the adventure holiday market and travelers interested in the soft adventure vacation getaways which Barbados is noted for. For more on things to do in Barbados Go to Barbados.org
The SIE Campaign reaches across the Internet, the broadcast media and social networks creating related points of influence (knowledge graph). Ian R Clayton, CEO of AXSES, owner of Adventure-Travel-Destinations.com says: "Adventure is an important theme, and the Social Index Engine promotions create excellent exposure, social activity and authority across multiple media in many markets".
ABOUT AXSES
AXSES is a leader in Social Marketing for Travel. It was one of the first companies to develop a direct bookings application for Facebook, and has consistently been an innovator is all aspects of travel marketing. In 2011, AXSES was featured by the New York Times in an article on Social Media use in Travel.
The AXSES team works with professionals in the hotel, tourism and travel industries, to help build their businesses through all forms of social media and conventional marketing.
For details on the U-drive Adventure Travel Tours Click Here