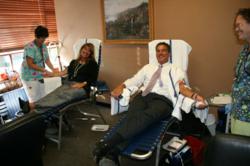 "Giving blood truly makes a difference in the lives of the patients we serve in Plainsboro and the surrounding communities."
Princeton, NJ (PRWEB) August 24, 2012
The Princeton, N.J. branch of David Lerner Associates, a financial investment company headquartered in Syosset, N.Y., recently hosted a blood drive in partnership with The University Medical Center of Princeton at Plainsboro (UMCPP), part of the Princeton HealthCare System.
The blood drive resulted in nineteen potential blood donors with seventeen collected units of blood. All donations went directly to the University Medical Center of Princeton at Plainsboro to benefit patients in need.
"I would like to extend my deepest thanks to all of the employees and community members who came forward to support the patients of UMCPP," said David Lerner, founder and CEO of David Lerner Associates. "It has been a great pleasure to work with the professionals at the University Medical Center and we are proud to lend a helping hand."
"On behalf of the University Medical Center of Princeton at Plainsboro and the patients who benefit from blood transfusions, I am pleased to extend our sincere appreciation to David Lerner Associates for generously hosting this drive," said Marlene Ihle, Blood Donor Recruiter at UMCPP. "Giving blood truly makes a difference in the lives of the patients we serve in Plainsboro and the surrounding communities."
The Princeton offices of David Lerner Associates are located at Forrestal Village at 221 Rockingham Row in Princeton. For more information about David Lerner Associates and future community events, please call 1-877-DLerner.
About:
Founded in 1976, David Lerner Associates (DLA) is a privately-held investment company . DLA's headquarters are in Syosset, New York and has branch offices in Westport, CT; Boca Raton, FL; Teaneck, NJ; White Plains, NY; and Princeton, NJ.