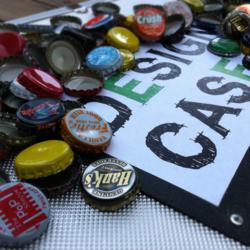 I just wanted to see kids rolling up their sleeves to create products that solve real-world problems
Fort Collins, CO (PRWEB) August 29, 2012
Designcase.co is launching a new 'green' curriculum kit for 6-12 Education. Students explore design and problem solving by turning discarded materials into new products, also called 'upcycling'. These creativity kits teach engineering, business, and sustainability in a way that inspires students to find novel solutions to real-world problems.
"When a kid gets a flat bike tire, let's teach them how to turn it into a wallet instead of throwing it away," says Mark Schreiber, educator and creator of Design Case, "We want to teach students to create funding streams, not waste streams." The Design Case Curriculum does just that, by getting students to ask the question, "What can this become?" This line of thought is becoming more important as more schools start to implement new 21st Century learning standards.
Design Case helps students gain the needed 21st Century learning skills to succeed in our ever-changing world. "It's more than repurposing," said Design Case contributor and teacher, Dan Joiner, "It's about getting kids to think and design with limited materials. It's about making something better, and then selling it. That's what upcycling is all about." During this creative process students get a heavy dose of what 21st Century standards call "The 4 C's": Critical thinking and problem solving, Creativity and innovation, Communication, & Collaboration.
Teachers and students will discover a case packed with learning activities, background readings, and hard-to-recycle material samples waiting to be turned into something new. The hip silver case is meant to excite students and get them dreaming, designing and creating. "I just wanted to see kids rolling up their sleeves to create products that solve real-world problems," says Mark Schreiber, "Who knows, maybe we'll inspire the next Steve Jobs."
Green Design Concepts, LLC, makers of Design Case, was founded in 2012 by Mark Schreiber, a nationally recognized educator. Mark received the prestigious Milken Family Foundation's National Educator Award in 2005 for his work in design and engineering education. Headquartered in Fort Collins, CO, Green Design Concepts strives to inspire student creativity and as their tagline says, "Save the Landfills, by Design." Through the launch of their Design Case Curriculum kits they hope to do just that.
To help get students "Out of their desks and into the trash, by design" visit http://www.designcase.co