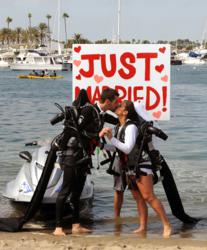 Sharing amazing adventures with the people we love is what makes life worth living. We really wanted to make this special wedding happen for Grant & Amanda because it's an example of what we are passionate about as a company." TJ Sassani, CEO, ZOZI
San Francisco, CA (PRWEB) August 23, 2012
Love is an adventure. Literally, for Grand Rapids, MI, couple Grant Engler and Amanda Volf, who were wed today by jetpack in Newport Beach, CA, in once-in-a-lifetime wedding hosted by ZOZI, the most trusted brand in adventure and experience. The commercially available water-powered jetpacks were provided by Jetlev Southwest.
With a gorgeous Southern California coast as their backdrop, the groom, who wore a white bowtie over his black wetsuit, and bride, decked out in a white rash guard, white board shorts and veil, "flew down the aisle" by jetpack to Pachelbel Canon in D, and were married on a small beach with forty of their closest family and friends.
"I proposed to my then girlfriend on an awesome ZOZI getaway in Mexico back in June," said Grant Engler, groom. "Afterwards, I emailed ZOZI to share the news out of sheer excitement, and they wanted to help us take our already special moment to the next level by pulling off this incredible experience as our wedding. Amanda and I both share a deep love for the outdoors and seeking out new adventures together. The funny part is that Amanda is actually a wedding planner – but to us, a wedding is wherever you are with the person you love."
To celebrate the momentous event, ZOZI will be giving away an all-inclusive jetpack adventure getaway for two in Newport Beach, CA. To enter for a chance to win, go to: http://www.zozi.com/love
"Sharing amazing adventures with the people we love is what makes life worth living," said TJ Sassani, CEO, ZOZI. "We really wanted to make this special wedding happen for Grant & Amanda because it's an example of what we are most passionate about as a company, and that's helping people live their life to the fullest. A big part of that is sharing these amazing, transformative experiences with others."
ZOZI allows you to discover and book local adventures around the corner, travel getaways around the world, and even celebrity-guided excursions with ZOZI Gurus™. ZOZI hand-picks thousands of experiences ranging from midnight kayaking and wine tasting by bike, to white water rafting and celebrity experiences – such as skiing the Sierra backcountry with Olympic gold medalist Jonny Moseley or learning to surf with ESPY and Billabong XXL surfing champion, Maya Gabeira.
The couple's first dance took place in the air, also by jetpack, to Frank Sinatra's "Come Fly with Me."
To keep updated on the latest ZOZI experiences and adventures go to: http://www.zozi.com.
For more information, images and video, please visit our press site: http://www.zozi.com/jetpackweddingpress or contact tian.lee(at)zozi(dot)com
About ZOZI
ZOZI is the most trusted brand in adventure and experience. On zozi.com, you can discover and book unforgettable experiences that are around the corner, or all around the world. Each experience featured on the site is curated by a team of in-house experts; such as full-moon kayaking, wine tasting and vineyard touring by bike, surfing and relaxing in a private coastal villa, skiing the Sierra backcountry with Olympic Gold Medalist Jonny Moseley, and more. ZOZI was recently named in Outside Magazine's "Best Places to Work" 2012 list and Entrepreneur Magazine's "Most Brilliant Companies" 2012 issue, and is headquartered in San Francisco. For more information, visit http://www.zozi.com.
About Jetlev Southwest
Jetlev Southwest is an authorized sales agent, flight center operator and training academy for the Jetlev water-propelled jetpack. "Jetlevving" is the fast-growing watersport that lets pilots fly as high as 30 feet in the air, skim above the water at speeds over 30 mph and even submarine underwater using nothing but water pressure to propel them. Jetlev Southwest has a team of Certified Flight Instructors who can safely get first-time pilots up and flying in a matter of minutes, with over 1000 flights on the books since their first customers in August 2011. Beautiful Newport Beach, California serves as the backdrop for the headquarters, but they've also overseen the opening of flight centers in Oahu, Hawaii and Lake Havasu, Arizona, with several other flight centers in the works. Adventure-seeking buyers can purchase Jetlev units directly from Jetlev Southwest and receive pilot certification through their Jetlev Training Academy. For more information, please visit http://www.jetlevsouthwest.com.