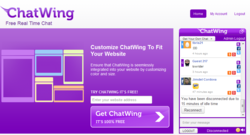 Cambridge, MA (PRWEB) August 23, 2012
The Chatwing Development Team has been making chat applications for more than three years now. However, they are raising the bar by launching a chat widget capable of global connectivity and online presence enhancement. As an added feature, the Chatwing team has also introduced the direct link option, allowing users to engage in private group chats with people they know.
Chatwing's free shout box is adaptable enough to be installed in many blogs and websites. Since it operates in simple language, users can install it without worrying about complicated commands or third-party applications. Once installed in a blog, it enhances activity by enticing visitors to discuss about different topics. The Chatwing team has noted that famous topics are current events, fashion, Hollywood news, Olympics, hobbies, humor, and even Internet marketing tips. A blogger can also use the Chatwing chatbox to widen his social network; he can send out invitations to people who have used their social media accounts to log in.
Months ago, the Chatwing team has tinkered with different upgrades and developments. This is to gauge which upgrades are really beneficial to end users. Some upgrades were taken down, while many were introduced within a short time frame. These upgrades have improved the chat tool's stability and speed, giving way for rapid expansions in various blogging communities like Wordpress, Livejournal, and Typepad. Forum makers have also begun using the free chat box to interact with their visitors and members.
Chatwing's dedication to the improvement of blogging communities has always been intact since the inception of the chat app. The developers are always looking forward to entertaining communication and proper relay of data. Additionally, the Chatwing team is also maintaining a Facebook page that is filled with timely content that highly emphasizes the importance of the chat tool.
About Chatwing.com
Chatwing.com specializes in the new field of website chat. Over years, the Chatwing team has introduced live chat widget for hundreds and thousands of blogs. The Chatwing application bridges people from many parts of the world, creating global synergy through the Internet. The shout box can be installed in just seconds, and it can be used for varying purposes such as leisure and Internet marketing. It also allows a user to customize the size, color, and name of the widget. Chatwing is 100% free for everyone.