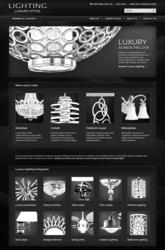 The site allows discerning consumers to find an upscale look that fits their taste, budget and expectation level.
Los Angeles, CA (PRWEB) August 29, 2012
Los Angeles based online lighting and home furnishings retailer Lamps Plus recently launched a new luxury lighting website, offering customers a curated selection of high-end lighting designs, culled from the parent company's extensive product inventory. LightingLuxuryStyle.com is an online destination for people who believe that great designs should also reflect great value. The site offers the same great pricing and customer service shoppers have come to expect from Lamps Plus, as well as free shipping.
Lamps Plus Owner and CEO Dennis Swanson explains, "Most people recognize Lamps Plus for the quality and value we offer, but they aren't aware of the wide selection of high-end products also available from designer studios such as Corbett Lighting. Other brands featured include Schonbek, Frederick Cooper and Metropolitan. We created Lighting Luxury Style to allow discerning consumers to easily browse these designs to find a look that is commensurate with their taste, budget and expectation level."
Product pricing on Lighting Luxury Style is exactly the same as customers have come to expect with Lamps Plus (excluding sale prices and special offers), as are generous customer policies such as a liberal sixty day return policy and a 120% Price Protection Policy, which guarantees to beat any advertised price within sixty days of purchase. Free shipping is also available on all products on the site as well.
Lighting Luxury Style has been built to introduce customers to a variety of styles. "We purposefully designed the site to allow for discovery," explains Angela Hsu, Vice President of Internet Marketing for Lamps Plus. "Traditional lighting fixtures are displayed alongside contemporary lights. The common denominator is luxury and quality."
Swanson elaborates, "We've organized the site by intuitive categories so that that a customer looking to buy bathroom lighting or chandeliers, for instance, can easily browse those designs. For those who know exactly what they're looking for, they can refine their searches by style, finish and more to dial in the product offerings."
Consumers can browse the site's full range of luxury indoor and outdoor lighting products at LightingLuxuryStyle.com.
ABOUT LIGHTING LUXURY STYLE
Lighting Luxury Style offers consumers a great location to discover a wide range of high-end lighting designs at competitive prices. Featuring free shipping, a sixty day return policy, and a 120% Price Protection Policy, Lighting Luxury Style offers a hand-picked selection of Lamps Plus products, backed by the customer service of the nation's largest specialty lighting store. More information can be found at LightingLuxuryStyle.com.
ABOUT LAMPS PLUS
For more than 30 years, Lamps Plus has been synonymous with excellence in the lighting retail industry. Established in 1976, Lamps Plus is the nation's largest specialty lighting store, with more than 40 superstores throughout the western United States. Together with their retail lighting stores and online business, Lamps Plus serves customers nationwide with the largest selection of functional and decorative lighting fixtures, accessories, furniture and home décor. This selection includes hundreds of products available exclusively from Lamps Plus. Services include in-home lighting consultations, in-store lighting workshops and installation from expert, licensed electricians. American Lighting Association certified lighting designers are available to offer product recommendations and lighting advice in all our stores, by phone or online at LampsPlus.com.