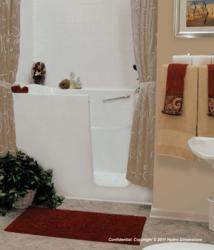 We feel the addition of the HD3260-Deep will be a great option for those that need more space to take a bath.
Denver, CO (PRWEB) August 24, 2012
Aging Safely Walk In Bathtubs, a company dedicated to providing safe bathing options for mobility challenged individuals, is proud to announce that they will now be selling a new additional line of walk in tubs designed by Hydro Dimensions. Aging Safely Walk In Bathtubs is pleased that they can now offer even more choices to the mobility challenged with this line of walk in tubs. Individuals and caregivers are sure to be pleased by one of Hydro Dimensions' six premium walk in bathtub models.
All of Hydro Dimensions' walk in bathtubs are made from gel-coated fiberglass. Standard safety features include walk in or step in entry doors, built-in seats, safety grab bars, easy to reach faucets, non-slip floors and hand-held showers. Customers have the option of customizing their walk in bathtubs by adding a custom hydro massage system, air hydrotherapy massage system or dual massage system. Hydro Dimensions' walk in bathtubs are high-quality products fully certified by third parties such as IAPMO (International Association of Plumbing and Mechanical Officials), UPC (Uniform Plumbing Code) and UL (Underwriters Laboratory). All bathtubs can be fully installed by Aging Safely Baths, or customers may choose to have their own licensed plumber install it.
The six walk in bathtub models available are the HD Series 3052, HD Series 3055, HD Series 3155-D, HD Series 3260-D, HD Series 3153 and HD Series 2645. The 3052 is a popular choice thanks to its spacious interior size and a frame that allows the tub to be placed in its final position without requiring that the bathroom be extensively remodeled. The 3155-D is an extra deep and spacious tub, and if you need something even larger, the 3260-D is the largest Hydro Dimensions full size walk in bathtub model available. If you require a bathtub on the other end of the spectrum, the 2645 is the smallest model available. The 3153 is a good choice for bathrooms that have a garden window; the height of this tub allows it to be installed under a window.
Hydro Dimensions is only one of the three walk in tub brands sold by Aging Safely Baths; the two other brands are MediTub and Ella's Bubbles. Walk in tubs are ideal for people who are disabled, senior citizens or anyone who worries about their safety while stepping in and out of a bathtub. People interested in the new Hydro Dimensions line and Aging Safely Baths' other bathtubs will be pleased to discover that, oftentimes, it is not necessary to remodel the whole bathroom in order to install a bathtub as many of these bathtubs are of a similar size to standard bathtubs. All Aging Safely products come with a lifetime "no leak" door seal warranty, and they guarantees customers that its prices on walk in tubs are the lowest nationwide. In addition they service all 50 states and Canada.
Contact Information:
Zach Wennstedt
Aging Safely Baths & More
P.O. Box 270696
Louisville, Colo. 80027
Toll Free 1-888-779-BATH(2284)
http://www.agingsafelybaths.com