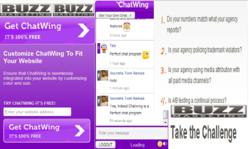 Tucson, AZ (PRWEB) August 24, 2012
Competition is fast in the Internet nowadays, and this is based on the amount of blogs and websites created regularly. Developers of the Chatwing chat box have understood the way online competition goes, and they are always willing to help users gain an upper hand or a head start. The Chatwing team has announced the launch of its newest chat box can aid any user's buzz marketing campaign. This chat application can be installed to most blogs and websites, and can become active in just seconds after installation.
Blogging is one of the easiest and most common form of buzz marketing. In Wordpress alone, millions of bloggers are discussing different niches everyday. A large percentage of them are exchanging insights about plugins and applications. Buzz bloggers can use the Chatwing chatbox to interact with their visitors at a better rate. The blogger can take advantage of Chatwing's social media integration by sending out invitations to users who logged in with their Facebook or Twitter accounts. In the coming months, the Chatwing team is planning to add more login options.
To make the web chat experience better, the Chatwing team has upgraded the user capacity of the free chat box to 1000. This has satisfied many bloggers because their blogs have generated bursts of visibility on a continuous basis. Entrepreneurial bloggers have also benefited from the shoutbox in terms of web communication; now, clients were able to post their comments, questions, and sentiments in real-time. Chatwing's free shout box can also be installed in just few seconds, and there are no complicated commands needed.
The Chatwing Development Team is entirely dedicated to improve the way bloggers reach out to the world. Chatwing developers believe that a stable and free chat widget can help many users gain information without losing too much time. Moreover, buzz marketers will be able to reach their target markets with great speed and precision. The Chatwing team maintains a Facebook page filled with content about recent shoutbox developments.
About Chatwing.com
Chatwing.com specializes in the new field of website chat. Over years, the Chatwing team has introduced live chat widget for hundreds and thousands of blogs. The Chatwing application bridges people from many parts of the world, creating global synergy through the Internet. The shout box can be installed in just seconds, and it can be used for varying purposes such as leisure and Internet marketing. It also allows a user to customize the size, color, and name of the widget. Chatwing is 100% free for everyone.