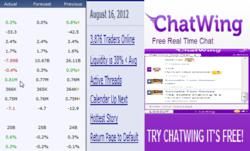 New York, NY (PRWEB) August 24, 2012
According to many professionals, currency trading or Forex is one of the best passive income generators of today. Because of the growth of Forex, many professionals are now making blogs about it. These currency trading blogs help people gain important tips about currencies, proper investment actions, and how to find the best brokers. Seeing the growth of this niche, the Chatwing Development Team has introduced a new chat box that can help investors and Forex bloggers communicate with each other. The Chatwing chat app is filled with useful features that heighten the premise of website chat.
Chatwing's free shout box can also be used as a prime visibility booster for any blog or website. To install the Chatwing application, the user must first register his blog or website's domain name. After that, he can now proceed to the widget customization phase; the user has the opportunity to select from three chat app forms: actual shoutbox, pop-up window, and direct link style. All of these forms have notable advantages. The Chatwing chatbox has been introduced in different communities such as Weebly, Wordpress, Livejournal, and Typepad.
Instead of relying on blog comments, Forex blog visitors can post their questions in the Chatwing chat room. Professional Forex bloggers can get to them in just seconds, offering their useful tips. A Chatwing chatroom also has the capability to hold up to 1000 users, increasing the chance of global communication within a little time frame. Chatwing's free chat widget has also been useful in the niches of online marketing, web development, photography, and travel blogging.
To make sure that Forex bloggers and their visitors interact on a better scale, the Chatwing Development Team is ready to introduce several platform upgrades. This series of upgrades will occur in the following months, in line with the company's strategic expansion in different online sectors. The Chatwing team will also continue making researches that can emphasize the online needs of bloggers and web surfers.
About Chatwing.com
Chatwing.com specializes in the new field of website chat. Over years, the Chatwing team has introduced live chat widget for hundreds and thousands of blogs. The Chatwing application bridges people from many parts of the world, creating global synergy through the Internet. The shout box can be installed in just seconds, and it can be used for varying purposes such as leisure and Internet marketing. It also allows a user to customize the size, color, and name of the widget. Chatwing is 100% free for everyone.