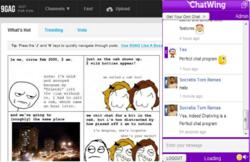 Chicago, IL (PRWEB) August 24, 2012
9Gag bloggers and fans can now have a reliable hub where they can discuss funny rage comics, hilarious memes and engage in real-time chat. Chatwing's free chat box has a simple interface that makes it easy to use and install. Anyone can embed it to his site in a few seconds and start connecting globally. 9gag bloggers can immediately start posting and sharing favorite rage comics, funny posters and photos with other online users. The Chatwing Development Team empowers the 'synergy' that is being created in the 9gag community.
Based on global statistics, many web surfers are getting attracted to sites like 9gag; these people are usually those who aim to be entertained and distracted from boring routines. Engaging these web surfers through an efficient and free chat widget will make them re-visit one's site or even recommend it to friends. This flurry of activity can contribute to a website's online presence. Chatwing chat app's accessibility allows anyone to join in any chat discussion without hassle. The shout box's social integration feature also lets any interested party to participate in discussions, given that they have a Facebook or Twitter account. Hundreds of online users can interact simultaneously without affecting the reliability of the chatbox.
Chatwing's improved free shoutbox has a direct URL link option which allows a user to generate a username which he can send to targeted web surfers and start a more focused chat discussions.
The Chatwing team ensures that 9gag fans will benefit from using this upgraded chat widget once installed to their blogs. Other niche bloggers who tested the chat application have also experienced an increase in online visibility—based on the detailed observation of the Chatwing team.
About Chatwing.com
Chatwing.com specializes in the new field of website chat. Over years, the Chatwing team has introduced live chat box for hundreds and thousands of blogs. The Chatwing application bridges people from many parts of the world, creating global synergy through the Internet. The shout box can be installed in just seconds, and it can be used for varying purposes such as leisure and Internet marketing. It also allows a user to customize the size, color, and name of the widget. Chatwing is 100% free for everyone.