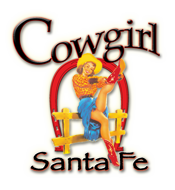 Santa Fe, New Mexico (PRWEB) August 23, 2012
Santa Fe dining landmark, Cowgirl, which serves up legendary barbeque fare and an exclusive style and a décor that is its very own, delivers The Bus Tapes to the stage at 8:30 p.m., Saturday, July 25, 2012. This event and Cowgirl are featured on Santa Fe visitor guide Santa fe.com
Hailing from Santa Fe, New Mexico, The Bus Tapes are a fun and energetic band that has been entertaining local crowds since 2008. The band's rhythmic, acoustic feel on top of relatable, sing-a-long song writing is the leading tone behind its collaborative style of music. Folks enjoy the band's interactive, friendly show, and appreciate the varying types of music – The Bus Tapes mix it up. One tune might be a funky R&B cover, the next a happy folk song, and the one after that a down-beat ballad. Members include Heather Tanner – Guitar and Vocals, Case Tanner – Bass Guitar, David Gold – Lead Guitar, and Milton Villarubia – Drums.
The Bus Tapes have played many notable local venues, including:

Route 66 Casino – Albuquerque, NM
Buffalo Thunder Casino – Santa Fe, NM
Santa Fe Plaza Bandstand 2009 & 2010
Santa Fe Brewing Company – Santa Fe, NM
El Farol - Santa Fe, NM
Milagro 139 - Santa Fe, NM
Ore House On The Plaza - Santa Fe, NM
Tin Star Saloon - Santa Fe, NM
Cowgirl Hall of Fame - Santa Fe, NM
Second Street Brewery - Santa Fe, NM
Tiny's – Santa Fe, NM
The Mine Shaft – Madrid, NM
Adobe Bar @ The Taos Inn - Taos, NM
El Monte Sagrado Resort - Taos, NM
Ancient Mariner – Colorado Springs, CO
Kinfolks – Colorado Springs, CO.
About SantaFe.com
SantaFe.com provides locals and visitors to Santa Fe alike the most current interactive platform for events, music, arts, business, dining and lifestyle. SantaFe.com is a division of Hutton Broadcasting, located at 2502 C. Camino Entrada, Santa Fe, NM 87507
Contact Information:
Scott Hutton
SantaFe.com / Hutton Broadcasting
http://www.santafe.com
(505) 471-1067 (Media inquiries only, please)
About Cowgirl:
Since 1993 Cowgirl, which now occupies almost the entire block where it started, includes a restaurant, a billiard parlor, a commercial catering kitchen and several private party rooms. The patio is one of the most inviting summertime venues for locals and tourists alike and the Cowgirl has become a local institution.
Contact Information:
Barry Secular
Cowgirl
319 S. Guadalupe St.
Santa Fe, NM 87501
http://www.cowgirlbbq.com
(505) 982-2565