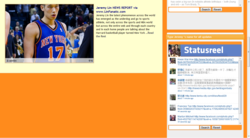 Chicago, IL (PRWEB) August 24, 2012
People use Facebook status for all sorts of reasons. Facebook users are highly diversified and so are the ideas that are generated at the same instant. Facebook allows its users to view status updates of their friends via Facebook's news feed. But to be able to view statutes posted by others aside from a user's friend, we need the Facebook widget provided by Statusreel. What is more amazing about this Facebook status application provided by Statusreel is that it enables anyone to search through the live Facebook statuses posted from the categories given or by typing in a particular word or set of words in the search box provided. A search can also be made from Statusreel's archived statuses according to popular Face book status categories.
Now that the status on Facebook can be searched into, a variety of internet users can benefit from this feature offered be Statusreel. For example, Facebook users who love posting and reading funny status, can search from other users' post and they can like the posts and they can share it on their own Facebook profile, as well. Facebook users can search for people with the same area of interest based on the status on Facebook that a person posts in real-time. With this, Facebook users will have the chance to be friends and connect with people all over the world who share the same views and ideas.
Bloggers and website administrators alike will agree of Statusreel's Facebook status tool's importance as they can get a lot of information from a wide range of Facebook users from different parts of the world. From the greatly varied ideas posted as Facebook statuses, a great deal of inspiration can be acquired for blog or website content. The live stream of Facebook statuses also gives a reliable statistic on what the majority of people are interested in, thus giving bloggers and web admins a better idea of what to write about to increase traffic into their blog or website.
To enjoy the great feature of watching live stream of Facebook statuses, one would just have to go to the Statusreel website. For the benefit of bloggers and website administrators, the Statusreel Facebook widget can also be embedded into their blog or website so that they can have easy and immediate access to the Facebook statuses posted live. The installation procedure is very easy and can be done in a very short time. The widget can also be customized as to how they would want it to look like when inserted in their sites.
About Statusreel
Statusreel.com is a product designed to give end-users an instant amount of Facebook statuses in real-time. Users can search via keyword or by subject matter to see what chatter is taking place publicly on Facebook and the web. Statusreel also allows websites and blogs to embed a Facebook status widget directly into their site. Statusreel is a web-based Facebook tool that is 100% free.