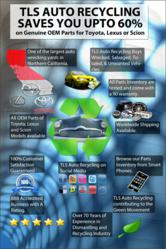 Savings made easy with Recycle Parts
Rancho Cardova,CA (PRWEB) August 24, 2012
TLS Auto Recycling joins the trend on Infographic to better explain customers how they could make huge savings and contribute to the environment. The infographic was published on http://visual.ly/tls-auto-recycling, Thereafter, it got a great response on social media websites such as Pinterest, twitter, linkedin.
TLS Auto Recycling, Sales Manager Jose mentioned "Infographic was a great offline medium for marketing, However seeing the response from the internet the company may try to release more infographic displays for creating awareness of how purchasing recycle parts could not just bring savings but also help save our environment."
This Infographic also caught attention of an upcoming infographic review website which featured TLS Auto Recycling Infographic with a 4 Star Rating.
About TLS Auto Recycling
TLS Auto Recycling is at the forefront of the northern California auto recycling business. Specializing in auto parts for the Toyota, Lexus, or Scion driver, TLS Auto Recycling is renowned for its high rate of client satisfaction and customer-oriented business philosophy. A leader in the green industry and in environmentally friendly business practices, TLS uses only clean and undamaged parts that undergo rigorous in-house testing.
Contact Information for TLS Auto Recycling:
Customer Service
TLS Auto Recycling
info(at)alltoyotalexusparts(dot)com
(877) 247-1717
http://www.alltoyotalexusparts.com