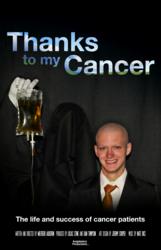 I want to provide a tool of hope to anyone who has to deal with a Cancer diagnosis
Fort Collins, Colorado (PRWEB) August 24, 2012
"Thanks to my Cancer" is a documentary that will hit on the hard facts about cancer, while offering hope at the same time. Cancer is a disease that is present in every form of everyday life. This disease affects loved ones, family, and friends, and studies show that one out of every three people will contract Cancer in their lifetime. This disease is the most familiar to everyone because from birth to death there isn't one person in the world that hasn't heard of someone developing cancer, beating cancer, or dying from cancer. With so many new cases every year it's hard for patients to find motivation, and they have limited sources to turn to.
"Thanks to my Cancer" is a message of perseverance and strength. This documentary is a bright light of positivity in the dark world that is Cancer. This film is the project of a 35 year old man named Wilfredo Aqueron. This man may not seem familiar, but he is the next door neighbor, the smiling face down the street, and another one of the many people who have won their battle with Cancer. Wilfredo was diagnosed with a rare type of cancer called Pontine Glioma shortly after his baby daughter was born, and being an active soldier in the Army the best care was available to him. With all that expertise he was still only given a slight chance for survival. Coming through the other side of his battle with this disease, he decided that the word needed to be spread that Cancer is a disease that needs to be fought, and that there were people doing just that.
"Thanks to my Cancer" is a documentary that will focus on the testimonies of patients that have battled Cancer and reigned victorious. The message of this documentary is simple, "Don't give up!" there are people who have been there, there is a support system. So often patients suffer from depression and isolation, and considering how many people are affected by this disease, it's time for this support system to stand up, united as one. There is no reason why a person should ever feel alone, or discouraged when there are great stories out there dying to be heard.
(Donation Site,Click here)
Wilfredo Aqueron was given a life expectancy of two years to live, and that was four years ago. All of the survivors shown in this documentary have stories that take inspirational to whole new heights. This documentary needs the public's help, or these stories may remain untold. "Thanks to my Cancer" is seeking 20,000 dollars to produce this film and every penny is detailed and accounted for on their fundraising campaign on Indiegogo.com. This campaign asks for simple ways to help like sharing the project on social media sites, word of mouth, and monetarily. This message deserves to be heard, Cancer patients should feel anything but alone. "Thanks to my Cancer" deserves a chance, information about this cause is listed below, people need to band together so they can prove that Cancer isn't the end, it's only the beginning.