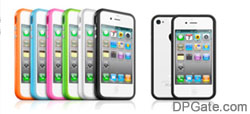 The DPGate discount coupon can be used to buy more than 6000 products on the website.
Hong Kong (PRWEB) August 24, 2012
DPGate.com, a large-scale website for wholesale and retail of cell phone accessories, now is launching a promotion of 10% discount coupons to acknowledge new and old customers. "When you get registration at this website and subscribe to the newsletter, you will receive 10% discount coupon. The discount coupon can be used to buy more than 6000 products on the website, including all cell phone cases and iPad case, etc." Marketing Manager of DPGate.com, Mr. Ryan explained.
At the coming release of iPhone 5, the iPhone accessories distributors have already prepared to enrich the categories of products including the cell phone cases and promote new products endlessly. Mr. Ryan said, "When you walk along the street, you will often see the fashionable young people hold exquisite and novel cell phone cases. According to the market situation, DPGate has upgraded a series of new-style cell phone accessories, like Knuckle Case, Embossed Streetlamp Glass Hard Case, Soft Bear Case and others. At the enthusiastic attitude, the customer service personnel answer every question raised by the customer and deliver the products to the customers at the fastest speed, finishing this within 24hours."
The cell phone case is fashion and beauty. Through ornamenting your cell phone, it can prevent from dust and falling, and increase the durability of the cell phone. "The different cell phone case has different roles. The bumper case can prevent from the fall of the cell phone. The charger case can be used as the portable charger on the journey; A bank card or bus card can be inserted into a card case for convenient carrying. LCD case can give out the light gloss, rendering the atmosphere of the night. All these cases are available here at DPGate.com." Mr. Ryan added.
About DPGate.com
DPGate.com is an online shopping mall specialized in business of cell phone accessories, and provides thousands of different styles of cases, like cases for iPhone 4s, Samsung and iPad, etc. DPGate.com is notable for superior services and efficient delivery speed. Upon two years' the establishment, DPGate.com has provided services for 100,000 customers from over 180 countries. It is hailed as the most reliable cell phone accessory wholesaler by distributors and well popular among customers by virtue of good services. For more information, please visit: http://www.dpgate.com/