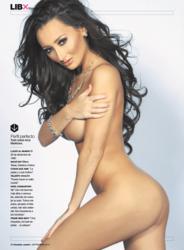 Los Angeles, CA (PRWEB) August 25, 2012
As one of the most searched and recognizable models of 2012, Amy Markham is at it again with her latest pictorial for Maxim Espanol Magazine. The exotic beauty has created a media frenzy with her spicy celebrity pictorials for GQ, Maxim and FHM and continues to take the world by storm.
Not only did Amy leave us hot and sweaty with her near nude photos, but she also sparked our interest and made us laugh with her love for...wait, do we have this right? Family Guy? When the editors asked of her secret talents, she left us laughing with her impressions of Stewie Griffin. Wow! so she's a fun AND sexy supermodel? No wonder men all over the world are in love with Amy!
Amy Markham is an International model who has graced the covers and pages of publications and ads worldwide. As a small town girl from the Lonestar state of Texas, Amy has worked around the clock to reach global success and recognition. Since her first magazine shoot just last year, she has shot covers and features for publications both US based and internationally back to back. As seen in her celebrity features in international editions of Maxim, GQ, FHM and Vogue, this self made model has made it well known to the world she was more than a one hit wonder in the industry.
Amy Markham is very well known for being diverse and for her exotic looks. She is a blend of Korean and English-Caucasian and was blessed with ethnically ambiguous features. With one click of a camera, her dazzling exotic eyes, luscious brown locks, and her flawless skin certainly makes her stand out among other models. From Australia to the USA, South Africa to Mexico, Amy's recent global popularity has been on the rise with lightning speed since she was only discovered a little over a year ago.
Not only is she a highly sought after and successful print model, Ms. Markham has also branched into television and can be seen on the reality show Promo Girls on the Telemundo Network, and Anything that rolls on Channel 39 in Houston, Texas. She can also be seen on major news channel segments and interviews around the US covering her special appearances at local sporting and automotive events and shows. Additionally, she was also the host of BiteMeTv, a tv show based in Los Angeles that was recently a winner of the LA Web Series Festival 2011.