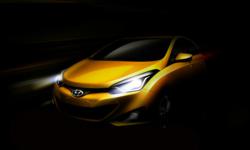 The company released teaser images of HB20 signalling the continuation of Hyundai's signature Fluidic Sculpture design language.
(PRWEB) August 26, 2012
The South Korean automaker commences HB20's mass production in September 2012 at the plant in Piracicaba, in the countryside of São Paulo State. The hatchback will start sales on the 10th October, 2012; in 1.0-litre flex fuel and 1.6-litre flex fuel versions, with an automatic transmission option for the 1.6-litre version. The HB family will also include a sedan and an SUV-style version, which will go on sale in the Brazilian market during 2013.
The three models of the HB family were exclusively developed for the Brazilian market by a co-operative of Brazilian and Korean engineers, and will be produced at Hyundai's first manufacturing plant in Brazil. The plant is 69,000 m2 in size, and sits on an area of 1.4 million m2. Brazil is the seventh country to receive a Hyundai manufacturing plant outside of Korea. The investment was AU $570.40 million* (USD $600 million).
Hyundai Motor Brazil already has more than 1,000 Brazilian employees, which is estimated to increase to 2,000 by 2013. Besides these jobs, the plant installation will provide more than 3,000 opportunities for local suppliers and create a further 20,000 indirect jobs.
Note: *Based on http://www.ex.com currency exchange as at 23.08.12