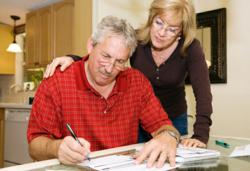 In a society focused on equality, mortgage companies should not be allowed to take advantage of their older customers.
(PRWEB UK) 24 August 2012
In the last 6 months a number of the UK's largest mortgage lenders have increased their Standard Variable interest Rate (SVR) despite the Bank of England Base Rate remaining at 0.5% since March 2009. On Wednesday this week, Santander became the latest lender to announce a 0.5% increase in their SVR from 4.24% to 4.74%.
Research conducted by TheRetirementCentre.com has shown (excluding equity release loans) that 21% of retirees are still paying monthly mortgage payments with an average mortgage of £82,000 outstanding. This means those who are on a Santander SVR with an average loan size will see their payments increase from £852.58 a month to £873.80 which equates to an increase of £254.64 a year, or to put this in another perspective, 4.5% of an individual's annual state pension.
Further concern for Santander mortgage holders, is that they also followed HBOS who earlier in the year increased their SVR cap, increasing the scope for future interest rate. For Santander the cap used to be 3.75% + Bank Base Rate which meant the highest SVR that could be charged was 4.25%. However, in order to implement this change Santander increased their cap by a third to 4.99% + Bank Base Rate, producing a new cap of 5.49%, which worryingly for Santander customers provides scope for further interest rate increases in the future.
Dominic Fraser-Smith, Managing Director at TheRetirementCentre.com said "Unfortunately we are seeing an increasing number of individuals retiring with a mortgage outstanding. When the mortgage companies increase their SVR's they often forget about the impact to those customers who are retired and are trapped on SVR unable to switch to new interest rate deal to lower their payment, either because their retirement income doesn't cover the repayments required or simply because they would be too old for the lender."
He went on to say "In a society focused on equality, mortgage companies should not be allowed to take advantage of their older customers. There are other products in the market such as Lifetime Mortgages that have no maximum age and whilst they form part of Equity release products which work on a compound interest basis, shouldn't standard mortgages continue to be based on affordability? Retirees will have purchased an annuity and therefore fixed their retirement income. More mortgage lenders need to follow HSBC and remove maximum lending age and enable assessment on an the circumstance of the individual".
###
Notes to editors:
TheRetirementCentre.com is a retirement specialist, designed to help everyone over the age of 50 through the challenging process of retirement for free. Through our selected partners we are able to offer market leading products and services for the over 50's market. From maximising retirement income with our whole of market annuity service through to finding the lowest utility rates or even just saving our customers money on everyday purchases and a whole lot more. We often comment and are quoted on a wide range of issues affecting our existing and potential customers.
Dominic Fraser-Smith has worked in Financial Services for 15 years. Prior to establishing TheRetirementCentre.com Dominic worked for Aviva where he held a number of senior positions in the Equity Release and At Retirement teams. During this period Dominic was also Director of Safe Home Income Plans the Equity Release trade body. He frequently provides comment on issues for the over 50's and is happy to be contacted directly on future issues.