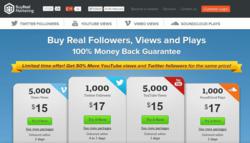 Ottawa, ON (PRWEB) August 25, 2012
Buy Real Marketing, the leading provider of web 2.0 business applications, announces extended promo of "50% More YouTube views sand Twitter followers" offered last weekend. The internet marketing company renowned for helping leverage clients' social profiles on Twitter, YouTube, Vimeo and SoundCloud, now offers the 50% More Promo to a limited time offer.
When clients buy Twitter followers or YouTube views service packages, an automatic 50% addition in quantity will then be placed on top of the specified order. This limited time offer promo is open to all clients: landing pages, standard client portal, reseller portal and elite reseller portal.
Buy Real Marketing has been in the forefront in giving clients the best and only quality social media service packages in affordable prices. Among the services, they offer are:

Twitter followers – provide clients real followers in order to maximize reach and achieve market influence on the micro-blog.
YouTube views – supply views that can launch videos to viral status and bringing branding to the doorstep of different social networking websites.
SoundCloud plays – help unmute the web by providing aspiring musicians and podcasters the chance to get heard via a boost in plays.
Vimeo views – prepare a stage for creative videos to receive an onslaught of adoration through views.
Available services offering social media packages have changed the landscape of social sharing and distribution of influence. Buy Real Marketing seized the opportunity to help businesses grow through online social.
They have launched several contests, given discounts and offered promotions to show how they value the clients that helped them reach several milestones in the online marketing industry.
Social media packages are guaranteed 100% money-back and are given at affordable prices. Customer service is available 24/7 to answer inquiries and concerns regarding the services.
To know more about the company's services, visit their website at http://www.buyrealmarketing.com or contact them at 1-877-435-5955.
About
Buy Real Marketing is owned by Clicking Labs. Clicking Labs is a well-established internet marketing company founded in 2010 by Jean-Patrick Bisson, Diana Quartin and Jonathan Kennedy. The company specializes in driving search marketing and social media traffic, social web app development and conversion optimization. Each product or service specifically helps small/medium website owners increase online visibility and improve online sales.
###