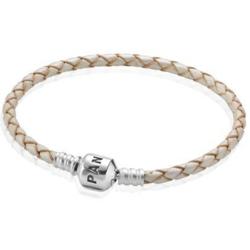 A free Pandora bracelet for each qualifying customer at popular online jewellery store The Jewel Hut
(PRWEB UK) 25 August 2012
The summer may be drawing to a close but the Jewel Hut is offering customers the chance to update their new season wardrobe with a free Pandora gift.
A purchase of £75 or more on Pandora jewellery items will result in a free Pandora bracelet for each qualifying customer at the popular online jewellery store.
Pandora fans simply have to add their desired items to the shopping basket and the different bracelet options will appear at the checkout stage.
The leather bracelet (RRP £40) will be available in a wide choice of colours; from darker shades of grey and brown to more eye-catching colours including red, pink and purple.
A total of seven colours is available in total, with each colour option offering three different sizes: 17.5cm, 19cm and 20.5cm. The different bracelets available mean there is sure to be an option to co-ordinate perfectly with your look.
The leather bracelet is a delicately woven design, with a sterling silver clasp bearing the popular brand's trademark logo. It offers Pandora collectors the perfect chance to showcase their favourite charms and all the latest additions to the jewellery phenomenon's ever-growing back catalogue.
Celebrating its 30th year in 2012, Pandora designs, creates and markets hand-finished modern jewellery in high quality materials at affordable prices. The company was founded in Denmark, and has been a runaway success, going on to sell in over 65 countries on six continents.
Pandora jewellery's 30 year journey has seen it cemented as a popular brand for beautiful gifts and treasured keepsakes. Pandora charm bracelets vary in size and style to suit any taste or occasion, while fans can tell their story through the combination of sterling silver, murano glass and shimmering gold designs.
Although its charm bracelets are much sought-after, the Pandora brand also offers beautiful rings, necklaces, watches and more.
The Jewel Hut is an authorised dealer of Pandora jewellery. It is proud to offer this exciting offer, which will run from 30th August to 2nd September, availability while stocks last. Terms and conditions apply.
For more information on Pandora Jewellery and to view collections from over 40 other popular brands, visit The Jewel Hut at: http://www.thejewelhut.co.uk.